Department of Internal Medicine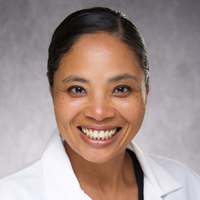 What is your hometown?
Berkeley, CA
When did you join the University of Iowa faculty?
August, 2015
How/when did you become interested in science and medicine?
I have been interested in science for as long as I can remember. I am a very adventurous person by nature.
As a child, my interest in science was focused on how science and technology tools could be applied to explore our world and universe.   I wanted to be an astronaut or a pilot. In college, my initial interest was in mechanical engineering.
My interest in medicine was triggered much later than most. It was sparked by a "Aha" moment when I was studying abroad in Kenya as an undergraduate. I remember the exact moment like it was yesterday. "Aha" moments are like that.
I was in the Masai Mara-Serengeti, sitting on a hill on top of a plateau that overlooked what felt like a thousand mile expanse of the dry semi-arid desert below. In the far distance, on the left of my gaze, I could see a Masai village. On the right, was a steep rocky ravine with hidden pools of stagnant water. Those pools were the only water source for the entire ecosystem until the rainy season months away. Slowly making her way up the rocky cliffs was a Masai woman. She was balancing a jug of water on her head and a baby swaddled onto her back. The distance between the woman and that village seemed so far. This was her fate. She was destined to the same life as her mother and her mother's mother. The distance between that Masai woman and me was worlds apart. But we were connected. By age. By gender. By race. I thought of my ancestor hundreds of years ago who may have been collecting water for her family when she was taken against her will onto a great big ship to America. I thought of the struggles, the tears, the blood, the humiliation, the fight for freedom, against slavery, racism, and oppression. Through it all, here I was, the world before me with infinite opportunity. Infinite choice. At that moment, I chose a path where the work I do supports the fundamental right to health. I chose to be a doctor.
What interested you to pursue a career in Internal Medicine?
Another long story. Another trip back to Africa. This time as a Peace Corps Volunteer in 1998. The HIV/AIDS epidemic in Africa was ravaging a continent unchecked and unchallenged, leaving children as orphans.
Ultimately I specialized in Internal Medicine and Pediatrics, caring for adults and children across life's continuum cradle to grave, individual to populations.
Is there a teacher or mentor who helped shape your career?
Not really.
My story is so different from most of my mentors who went ahead of me. I have had plenty of support and am incredibly grateful for the opportunities I have been given.
In medical school, every significant advisor I have had has been a white male with a traditional approach to medicine. They have all been wonderfully supportive and open minded. My career trajectory has been so unusual that the support has been mostly in the form of, "Okay Maia, you head off in your direction, your path. You've got my support." I have not found anyone who has been able to say, "Oh, that path is so familiar! I've been on it before…make sure you do this or that to arrive at your destination."
How or why did you choose the University of Iowa?
At the time, I was at Stanford Health Care as an Associate Medical Director focusing on Quality, Patient Experience, Clinical Transformation, and Physician Engagement.  It was at this point that I was recruited to come and be interviewed for the position, Chief Medical Information Officer.  
I chose Iowa for several reasons.
I believed that in Iowa I could be part of an effort to transform medicine not only for the people living in Iowa City, but for the population of the entire state of Iowa.  UIHC is the only academic medical center in the state. Our patients come from across Iowa and beyond. Unlike many other healthcare markets where the financial model is to grow through acquisition, the Iowa way is to build collaborations and partnerships.  We want to support local healthcare organization to do what they do best: provide great local care. We can partner and do what we do best: provide world class medicine for Iowa and the world.
These characteristics, a state wide presence, the strength of partnerships, and advance IT infrastructure and analytic capability, place UIHC in the unique position to be a national leader in population health. UIHC is one of a very small group of institutions that have the right mix of IT infrastructure, diverse population datasets, and innovation to leverage new tools in predictive analytics to improve the health of a population.  
For my family, I choose Iowa because of the wonderful schools.  We had the tough choice between really good public schools and a wonderful private school. We were happy to find Willowwind, a progressive independent school that was very similar to the urban independent school my children attended before our move. We were also fortunate to find the Preucil School of Music, one of the nation's oldest and most established Suzuki schools of music. The caliber of activities available to children continues to impress us. The kids from Iowa go on to do great things in the arts, sports, and academics. Iowa City truly exceeded our expectations.
The University of Iowa's faculty members are united to provide exceptional patient care while advancing innovations in research and medical education. How does your work help translate new discoveries into patient centered care and education?
The role of the Chief Medical Information Officer serves as a bridge between medical and IT departments.  Some activities I am involved in include:
designing and integrating IT systems in medical departments;
analyzing the use of technology such as electronic health record (EHR), clinical decision support (CDS) and computerized physician order entry (CPOE) systems to determine its effect on patient care;
setting standards for the use of medical terminology;
training physicians on the use of software, studying how the software is used and using that knowledge to influence future deployments, and
working with senior leadership to create a strategic plan for IT.
Ultimately, I seek to provide the information technology tools that can (1) maintain and make accessible accurate patient information; (2) collect and store aggregate data that can foster better decisions and planning relative to population health care needs; and (3) make available data for research purposes.
What kinds of professional opportunities or advantages does being a faculty member at an academic medical center provide?
I am fortunate that I have the opportunity to provide direct care to our patients, and to help evolve our health care system.
Only at an academic medical center could I participate in and influence the transformation of the delivery of health care, and possibly influence a state's system of care.
Many of the patients I care for have complex diseases.  Being on a multi-disciplinary team, we collectively bring a more sophisticated understanding of a patient's health care issue, and then together suggest responsive care options. And if in that care, a specialist is needed from another field, I only need to reach out.
Please describe your professional interests.
I have two.
I love primary care. I enjoy caring for adolescents and adults across the spectrum of health from prevention of disease to complex medical conditions.
Of equal importance to me is contributing to the transformation of the U.S. health care system. I wish to improve upon the information technology tools available to academic faculty members so that they may be able to focus on what matters most...
For the clinician, providing the very best patient care.
For the researcher, having access to meaningful data.
For the educator, proving a framework for student teaching.
What led to your interest in Informatics?
A desire to affect the health care system for the better. 
Healthcare is undergoing a radical transformation driven by external forces such the digital era and a transition from a fee for service model to one that is based on value. Patients value high quality, great experience, and a fair price.   As Chief Medical Information Office, my hope is to provide clinicians, researchers, educators and learners the information technology tools, processes, and systems they need to thrive in this new era of medicine.
How does working in a collaborative and comprehensive academic medical center benefit your work?
Being at an academic medical center provides the opportunity to contribute to the transformation of health care.
What are some of your outside interests?
Spending time with my family.  We are an active and adventurous group.  We love to travel and experience new cultures. As a family, we value cultural exchange of ideas. We also value health, fitness, and appreciation of the arts. Skiing, tennis, and music are favorite past-times.
Do you have an insight or philosophy that guides you in your professional work?
My guiding purpose is to alleviate suffering; that of my patients, learners, and colleagues. In healthcare, our commitment to providing a supportive, healing environment for each other is often overlooked or considered secondary to providing that environment for our patients. My belief is that there is a "bullseye" where the needs of our patients and the needs of each other are fulfilled, with far greater returns. We sometime have a very myopic view and focus on one or the other, patient experience over staff and care provider professional fulfillment.
 Diversity matters. With cohesive, diverse teams, innovation and creativity are fostered. The idea of a team is fluid, held together by shared purpose, not by organizational structure or siloes.
If you could change one thing about the world (or the world of medicine/science), what would it be?
The speed doctors put evidence into practice. On average it takes 17 years between scientific breakthrough and mainstream adoption by physicians to adopt evidence based best practice. That is like waiting 17 years after the iPhone was introduced before most people have a smart phone.
The amount of medical knowledge is currently doubling every three years. By 2020, the medical knowledge doubling time is projected to be 73 days.  If the time lag remains the same, by 2020 we will effectively be putting into practice <1% of all available medical knowledge. While I highly doubt this extreme will happen, we will need new tools, new conceptual models, new processes to close the time lag gap between discovery and mainstream clinical practice.
What is the biggest change you've experienced in your field since you were a student?
The availability of data to affect and improve our approach to health care.
What one piece of advice would you give to today's students?
Do not be afraid to forge your own path, even if your mentors have not travelled that path before.
What do you see as "the future" of medicine/science?
There will be a fundamental shift in the way health care is practiced in the U.S.  This shift will be driven by the diffusion of technology in health care, exponential growth of data, integrating novel data sources such as genomics, microbiome, and social determinants of health, new tools such as predictive analytics and artificial intelligence, will all transform how medicine is practiced in the future. This is all fantastic for patient care. Disruption almost always favors the patient or consumer. Disruption is usually very tough for the incumbents. For  health systems that are not prepared, the future holds many challenges soon to come.
In what ways are you engaged with the greater Iowa public (i.e. population based research, mentoring high school students, sharing your leadership/expertise with organizations or causes, speaking engagements off campus, etc.)?
I am available for speaking engagements off campus.
Date:
Tuesday, January 10, 2017