Former UI President David Skorton to give virtual lecture Sept. 21 marking Carver College of Medicine's 150th anniversary
Date: Tuesday, September 15, 2020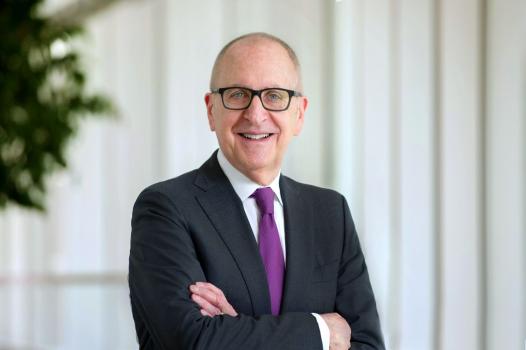 David Skorton, MD, president and CEO of the Association of American Medical Colleges (AAMC), former president of the University of Iowa, and a former faculty member in the UI Carver College of Medicine, will deliver a virtual lecture at noon Monday, Sept. 21, as part of the college's sesquicentennial (1870-2020).
Skorton's virtual presentation, "Celebrating 150 Years of Excellence Amid a Changing World—And Imagining What Comes Next," is open to the public. Registration for the Sept. 21 event is required.
Skorton joined the Carver College of Medicine in 1980 as a faculty member in the Department of Internal Medicine and its cardiovascular medicine division. A pioneer in cardiac imaging and computer processing applications in biomedical science, he also held a faculty appointment in the Department of Electrical and Computer Engineering in the UI College of Engineering. As a cardiologist, Skorton specialized in the treatment of adolescents and adults with congenital heart disease.
Over the course his 26-year career at Iowa, Skorton served the university in various capacities, including terms as vice president for research, vice president for external relations, and UI president from 2003 to 2006. He left Iowa to become president of Cornell University, a position he held until 2015, when he assumed leadership of Smithsonian Institution in Washington, D.C.
In July 2019, Skorton became president and CEO of the AAMC, the not-for-profit organization that represents the nation's medical schools, teaching hospitals, and academic medicine societies.
The Carver College of Medicine will celebrate its sesquicentennial throughout the 2020-21 academic year. Learn more about the college's history at medicine.uiowa.edu/150.