Video from Match Day 2018
The University of Iowa Roy J. and Lucille A. Carver College of Medicine had 154 of its 158 senior medical students participate in the National Residency Matching Program (NRMP) this year.
Among this year's class, 45 percent (71 students) chose primary care specialties, which include family medicine, internal medicine, obstetrics and gynecology, and pediatrics. There were 20 matches in family medicine programs, 25 in internal medicine, eight in obstetrics and gynecology, and 18 in pediatrics.
Among this year's graduates, 36 will remain in Iowa for their first year of postgraduate training, and 28 of these 36 students will train next year at UI Hospitals and Clinics.
Geographically, the most popular state after Iowa for first-year training was California, with 14 graduating students receiving their residency training there. Illinois will receive 11 students, and Missouri and Wisconsin will each receive 10. Three students secured their residency through the armed forces, and one student has deferred residency training.
Below is a full map of the students' match locations from 2017 and 2018:
"For many of our students, Match Day is really more significant than commencement," says Matt Edwards, registrar at the Carver College of Medicine. "Four years of hard work here at Iowa, on top of previous years of dedicated study, have led to this very important day.  Students are excited to find out where they will spend the next several years in residency training as they begin their professional careers as physicians."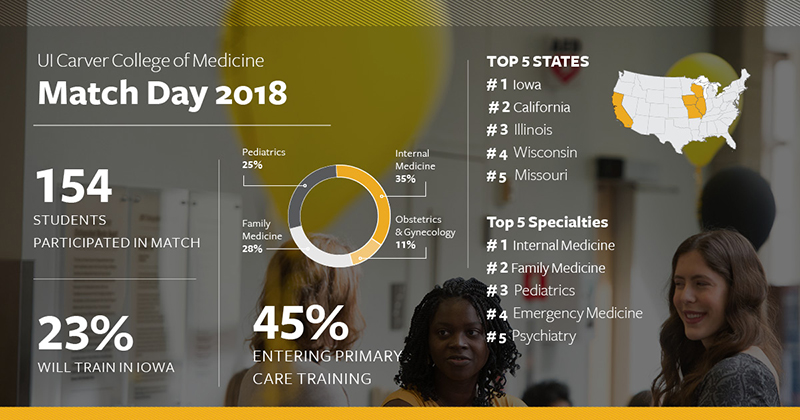 This year's match results, including individual results by name, state, and specialty, are available at: https://medicine.uiowa.edu/md/student-support/match-week.
The National Resident Matching Program® (NRMP®), or The Match®, is a private, non-profit organization established in 1952 at the request of medical students to provide an orderly and fair mechanism for matching the preferences of applicants for U.S. residency positions with the preferences of residency program directors. For more information, visit http://www.nrmp.org/.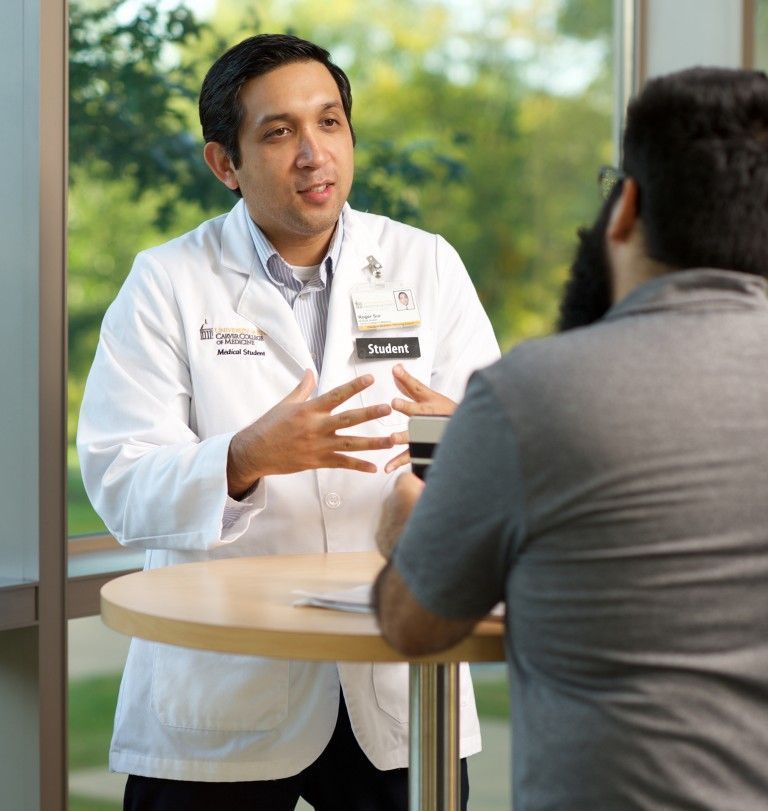 Roger Sur's story arc has taken him from Los Angeles to rural Iowa in his quest for helping make health care affordable and accessible for all Americans. Roger's is one of three stories full of hope and anticipation that we followed this Match Day.
---
Earlier Coverage: March 2, 2018
Medical students learn where they'll be residents
Match Day, Friday, March 16, is one of the most anticipated days in the careers of 150 fourth-year medical students at UI Carver College of Medicine. Like thousands of their counterparts at medical schools around the country and others worldwide, they learn on Match Day where they will pursue their training as residents.
Anticipation for everyone
At Carver College of Medicine it's a family affair, where partners, children, parents, siblings, and friends are invited to be among the first to learn where their soon-to-be-medical-school-graduate will be investing the next three to five years in medical training.
Last fall, fourth-year medical students began interviewing at residency locations around the country. By that time, after exposure to most medical disciplines in their medical curriculum and clinical rotations, students had narrowed their residency search to specific disciplines—internal medicine, pathology, surgery, and the like. They looked at programs they felt had the right fit for location, faculty mentors, and career-launching opportunities.
UI is a popular residency destination
UI Hospitals and Clinics, a prime residency target itself, interviewed hundreds of applicants for its 30 residency programs and the 140 positions that open in Iowa City July 1. This year, a total of 28 Carver College of Medicine M4s matched at UI Hospitals and Clinics.
The "match" happens when the nation's residency programs make their ranked choices of medical students and the nation's fourth-year medical students make their ranked choices of residency programs. All those choices confidentially go to the National Residency Matching Program where computers make sense of it all. In complete secrecy, the matches are distributed a few days ahead of Match Day to the nation's medical schools and revealed to everyone at one time—11 a.m. CDT Friday, March 16—Match Day.
Some Match Day traditions
At Iowa's observance of Match Day, each student's name is randomly drawn, one by one. They're invited to come up and accept a sealed envelope that bears their future.
Some elect to open it in front of everyone. Others hurry off to a quiet place to brace for the results.
Onlookers provide a solid ring of support: with praise for those who get their top choices and encouragement for those who might be going to a second- or third-alternate choice.
The drama is heightened when partners are both in the match, finally learning with certainty what's occupied their thoughts for months: Will they be training in the same zip code or even the same state?
Within the hour, the laughter and celebration in the room gives way to quiet reflections with medical students and their entourages taking in the reality of the months ahead. They're already looking at calendars and apartment rental services, wondering who among family and friends will be available for "the move."
And, like a much-anticipated holiday, Match Day mellows into a fond memory pointing toward a promising new year ahead.