Staff spotlight: Laura Rogers, cancer researcher
Date: Friday, December 15, 2017
Like most of us, when biologist Laura Rogers, PhD, hears stories about immunotherapy and the new hope it's bringing to cancer patients, the word "miraculous" comes to her mind.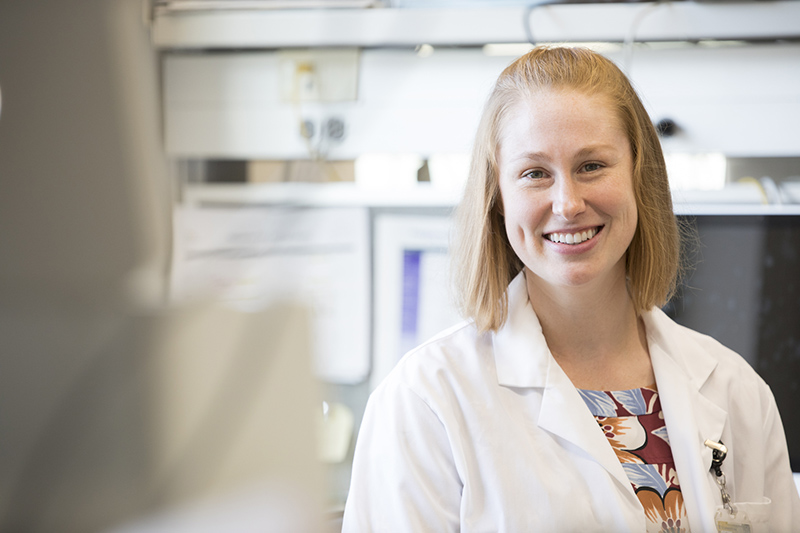 "Immunotherapy is miraculous, for some people," says Rogers, a postdoctoral fellow in the translational research laboratory led by George Weiner, MD, a lymphoma and immunotherapy expert and director of the Holden Comprehensive Cancer Center. "Depending on the cancer type, 30 to 50 percent of patients respond to current immunotherapies. And it's not just giving people another six months. Some people are living for many years without any detectable cancer."
But when she walks into the lab each day, Rogers has a different group of people in mind: the patients whose tumors don't respond to immunotherapy.
"Right now there aren't many clues for why they're not responding," Rogers says.
But she's working on it.
By uniquely combining the exceptional training in genetics and immunology she has received while studying at the University of Iowa and working in the Weiner lab, Rogers has developed a project that is on the brink of uncovering some of those clues and could give some of those patients a better chance at having an immunotherapy drug that works for them.
Waking a 'Sleeping Beauty'
Rogers didn't always plan to be a researcher. She recalls arriving at the University of Iowa as a freshman and giving serious consideration to a career as a doctor.
"I was initially pre-med," says Rogers, a native of Burlington, Iowa. "I knew I wanted to help people."
After taking a part-time job in a lab, however, she made a major personal discovery: She loved scientific research.
"Coming out of high school, I liked science, but I had diverse academic interests, including music," Rogers says. "But working in a lab, I learned that the puzzle aspect of science really appeals to me. There are these puzzles, these problems, that I just can't stop thinking about and that I'm excited to solve."
She continued to pursue an undergraduate degree in microbiology. Following that, she earned a PhD in anatomy and cell biology, training with UI associate professor Adam Dupuy. Dupuy is one of the world's foremost authorities on Sleeping Beauty—a genetic system to study mutations in mice that can be used to better understand those same mutations in humans.
After using the Sleeping Beauty system during graduate school to study tumors, Rogers sought immunology training so that she could take what she learned and use it in the development of drugs that could help cancer patients. A postdoctoral fellowship in the Weiner lab was an ideal opportunity to make that happen.
Where immunotherapy was always 'cool'
The Weiner lab does translational research, which means it converts basic science findings into actual drugs that can help patients. Weiner's lab specializes in cancer immunotherapy.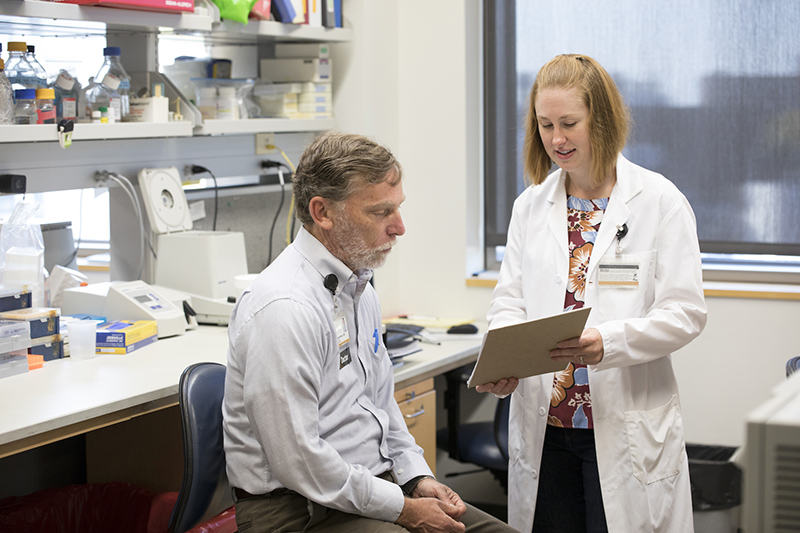 Immunotherapy encourages the body's immune system to fight tumor cells the same way it fights other threats to the body, such as viruses. Until very recently, most of the medical community didn't think that was possible because tumor cells aren't foreign bodies, they're human cells formed by genetic mutations.
But a string of immunotherapy successes in the past decade changed everything. Perhaps most famously, former President Jimmy Carter received an immunotherapy drug as part of his treatment for melanoma.
"George's lab has been focused on studying cancer immunotherapy for a long time," Rogers says, "before immunotherapy was cool."
Putting the pieces together
Since beginning her fellowship in the Weiner lab in 2013, Rogers has been using Sleeping Beauty to amass a list of nearly 300 genes that could be targets for new immunotherapy drugs. She's using her immunology training to identify which of those genes would make the best targets.
"To my knowledge, I'm the only one in the world using Sleeping Beauty for immunotherapy target discovery," Rogers says. "The vast majority of the genes on my list are not on anybody else's radar for use in immunotherapy. Once I've validated some targets, we're off to the races—talking with pharmaceutical scientists, designing drugs, and starting clinical trials."
That research recently earned her a Career Enhancement Program (CEP) award from the University of Iowa/Mayo Clinic Lymphoma Specialized Program of Research Excellence (SPORE). The Lymphoma SPORE is an ambitious and wide-ranging effort funded by the National Cancer Institute to promote groundbreaking translational lymphoma and leukemia research. The CEP award encourages early career scientists like Rogers to contribute to that work.
By staying true to her original desire—helping people—Rogers has forged a path as a scientific researcher that gives real meaning to what she loves to do in the lab.
"Because of the translational potential of my project, my work could really help somebody, and not sometime far off in the future, but in my lifetime," Rogers says. "I like puzzles, but the thing that really motivates me is that human aspect—the potential to help somebody in the real world."