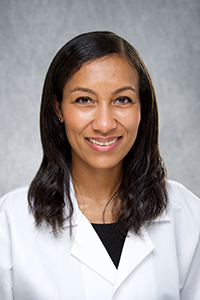 Clinical Director, Dermatology
Clinical Assistant Professor of Dermatology
Contact Information
Primary Office
40039 PFP
200 Hawkins Dr
Iowa City, IA 52242
319-356-2856
Education
BS, Biochemistry, University of Missouri
MD, University of Missouri School of Medicine

Internship, Internal Medicine, University of Missouri Hospital & Clinics
Resident, Dermatology, University of Iowa College of Medicine
Fellow, Procedural Dermatology (Micrographic (Mohs) Surgery & Dermatologic Oncology), University of Iowa College of Medicine
Licensure and Certifications
Board Certified - American Board of Dermatology
State of Iowa Medical License - Iowa Board of Medicine
Research Summary
Dr. Ferguson's interests include both general dermatology and Mohs micrographic surgery. Her clinical focus is in ethnic skin care with an emphasis in providing individualized and culturally sensitive care for persons of color. Her surgical focus is in cutaneous oncology and surgical reconstruction. She enjoys medical education and is involved in local and international medical community outreach.
Publications
Pritchett, E. N., Pandya, A. G., Ferguson, N. N., Hu, S., Ortega-Loayza, A. G. & Lim, H. W. (2018). Diversity in Dermatology: Roadmap for Improvement. JAAD. PMID: 29653209.
Ferguson, N. N. (2018). Kaposi's sarcoma, Toxic Epidermal Necrolysis (TEN)/Stevens-Johnson Syndrome (SJS), edema blisters, histoplasmosis, bleomycin-induced flagellate erythema, cholesterol emboli and hand-foot-and-mouth disease. In M. Rosenbach , R. Micheletti , K. Wanat , L. A. Taylor (Eds.) Inpatient Dermatology. (1st edition) Springer International Publishing AG. DOI: 10.1007/978-3-319-18449-4.
Matsumoto, E., Miller, S. L., Dika, M. N., Ferguson, N. N., Holte, A. J. & Carlson, J. R. (2017). A farmer's thumb lesion after a sheep bite: identifying the zoonosis. Consultant, 57(10), 609.
Hammel, J. A., Roth, G. M., Ferguson, N. & Fairley, J. A. (In Press). Lower extremity ecchymotic nodules in a patient being treated with ibrutinib for chronic lymphocytic leukemia. JAAD Case Rep.
Stanghelle, B. R., Junqueira, A., Ferguson, N. N., Madison, K. C., Swick, B. L. & Farah, R. S. (2017). Perifollicular papules on the trunk. Cutis, 99(5), E22-E24. PMID: 28632805.
Ferguson, N. (In Press). Laser Application for Ethnic Skin. In Laser in Dermatology and Medicine. (2nd) Springer.
Holahan, H. M., Farah, R. S., Ferguson, N. N., Paller, A. S. & Legler, A. A. (2016). Treatment of symptomatic epidermolysis bullosa simplex with botulinum toxin in a pediatric patient. JAAD Case Rep, 14(2(3)), 259-60. PMID: 27486588.
Ferguson, N. N., Thomas, C. P., Hohl, R. J., Syrbu, S. I., Stone, M. S. & Wanat, K. A. (2015). Primary Cutaneous Polymorphic EBV-Associated Posttransplant Lymphoproliferative Disorder After a Renal Transplant and Review of the Literature. Am J dermatopathol, 37(10), 790-4. PMID: 25747810.
Holahan, H. M., Ferguson, N. N., Farah, R. S. & Liu, V. (2015). Methotrexate ultraviolet reactivation reaction in the setting of voriconazole-induced phototoxicity. Int J dermatol. PMID: 26267431.
Ferguson, N. N., Asarch, A., Tschetter, A. J. & Stone, M. (2014). Periosteal ganglia presenting as subcutaneous nodules on the tibia. JAMA dermatology, 150(6), 663-4. PMID: 24553669.
Ferguson, N. N., Wendel, A., Farah, R., Liu, V. & Swick, B. L. (2013). Post surgical erosive papulonodular dermatosis. Journal of the American Academy of Dermatology, 69(4), e188-9. PMID: 24034394.
Farah, R. S., Ferguson, N. N. & Swick, B. L. (2013). Lichen planopilaris. Cutis, 92(1), 11, 17-8. PMID: 23961528.
Ferguson, N. N., Asarch, A., VanBeek, M. & Swick, B. L. (2013). Acute mucocutaneous methotrexate toxicity associated with interface dermatitis and numerous eosinophils. The American Journal of dermatopathology, 35(4), e63-6. PMID: 23221488.
Ngwenyama, N. E., Anderson, J., Hoernschemeyer, D. G. & Tobias, J. D. (2008). Effects of dexmedetomidine on propofol and remifentanil infusion rates during total intravenous anesthesia for spine surgery in adolescents. Paediatr Anaesth, 18(12), 1190-5. PMID: 19076573.
Wang, H., Ngwenyama, N., Liu, Y., Walker, J. C. & Zhang, S. (2007). Stomatal development and patterning are regulated by environmentally responsive mitogen-activated protein kinases in Arabidopsis. Plant Cell, 19(1), 63-73. PMID: 17259259.