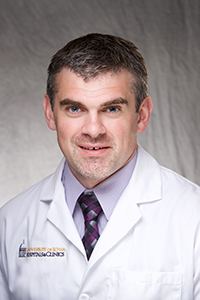 Clinical Assistant Professor of Anesthesia - Critical Care Medicine
Clinical Assistant Professor of Emergency Medicine
Contact Information
Education
BA, Chemistry, Idaho State University
DO, Osteopathic Medicine, Des Moines University College of Osteopathic Medicine

Resident, Emergency Medicine, Summa Akron City Hospital
Fellow, Critical Care Medicine, University of Iowa Health Care, Carver College of Medicine
Publications
Dick-Perez, R., Mohr, N. M. (2017). Know How to Diagnose and Treat Pulmonary Embolism. In A. Mattu , A. S. Chanmugam , S. P. Swadron , D. P. Woodridge , M. E. Winters (Eds.) Avoiding Common Errors in the Emergency Department. (2), pp. Section XVII Thoracic. Philadelphia, PA: Lippincott Williams & Wilkins.
Dick-Perez, R., Mohr, N., Harland, K., Ahmed, A., Fuller, B., Miyake, C., Shane, D. & Kannedy, L. (2016). ED Charges Predict Severity of Illness and Mortality in Patients with Severe Sepsis/Septic Shock. (Vols. 44). (Number 12 (Suppl.)), pp. 1479. Critical Care Medicine.
Dick-Perez, R., Htet, N. & Tsung, A. (2016). Anesthesia - Critical Care Medicine Fellowship. In K. Shafter , B. Stuntz & D. Malik , J. H. Badulak , L. Emlet , N. M. Mohr (Eds.) EMRA Fellowship Guide: Opportunities for Emergency Physicians. Dallas, TX: Emergency Medicine Residents Association.
Bhalla, M. C., Dick-Perez, R. (2014). Exercise Induced Rhabdomyolysis with Compartment Syndrome and Renal Failure. (Vols. 2014). pp. Article ID 735820. Case Reports in Emergency Medicine. PMID: 25105034.
Mustafaraj, E., Ellis, J. M., Dick-Perez, R. B., Klock, G. B. & Hisley, K. (2010). Investigation of Lower Extremity Aggregate Fascial 3D Tissue Geometry Using Visual Mapping Techniques and the Visible Human Male Image Set. (Vols. 110). pp. 35-36, S19. Journal of American Osteopathic Association.