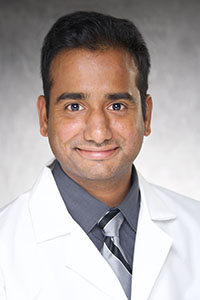 Associate of Internal Medicine - General Internal Medicine
Contact Information
Education
MBBS, Osmania Medical College

Department of Cardiology, Tulane Medical Center
Resident, Internal Medicine, Bassett Medical Center
Licensure and Certifications
Iowa Controlled Substance Certification - Iowa Board of Pharmacy
Iowa Medical License - Iowa Board of Medicine
Federal Controlled Substance Certification - United States Department of Justice, Drug Enforcement Administration
Publications
Voruganti, D. C., Briasoulis, A., Chaudhry, M., Alvarez, P., Cotarlan, V., Bhama, J. K. & Giudici, M. (2018). Cardiac resynchronization therapy and outcomes in patients with left ventricular assist devices: a systematic review and meta-analysis. Heart Failure Reviews. PMID: 30259285.
Voruganti, D., Gajurel, K., Bhama, J. K. & Cotarlan, V. (2018). Ruptured Intracranial Mycotic Aneurysm in Infective Endocarditis with Left Ventricular Assist Device and Implanted Cardioverter Defibrillator device: A Clinical Course. Transplantation Proceedings.
Voruganti, D. C., Cadaret, L. (2017). Amiodarone-induced interstitial pneumonitis. BMJ Case Reports, 2017. PMID: 28325725.
Gorantla, R. S., Ahmed, S., Voruganti, D. & Menzies, D. J. (2015). Hyperdynamic left ventricle on Radionuclide Myocardial Perfusion Imaging (RNMPI): A marker of Diastolic Dysfunction in patients presenting with dyspnea on exertion. IJC Heart & Vasculature, 9, 43-47.