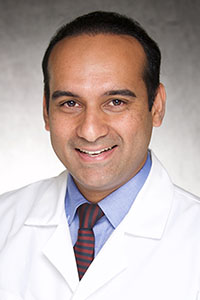 Associate of Internal Medicine - General Internal Medicine
Contact Information
Education
MBBS, J.J.M. Medical College
MPH, University of Minnesota
MPH, Yale School of Public Health

Resident, Internal and Preventive Medicine, Griffin Hospital, Yale School of Medicine
Publications
Malik, A. H., Akram, Y., Shetty, S., Malik, S. S. & Yanchou Njike, V. (2014). Impact of sugar-sweetened beverages on blood pressure. The American Journal of Cardiology, 113(9), 1574-80. PMID: 24630785.
Ng, V. G., Meller, S., Shetty, S. & Lansky, A. J. (2013). Diagnosing and Characterizing Coronary Artery Disease in Women: Developments in Non-Invasive and Invasive Imaging Techniques. Journal of Cardiovascular Translational Research, 6(5), 740-751.
Shetty, S., D'souza, S., Moll, D., Song, L., Kumaradhas, N. & Gnanaraj, J. (2013). Pituitary apoplexy following a nuclear stress test. Circulation, 128, A18715.