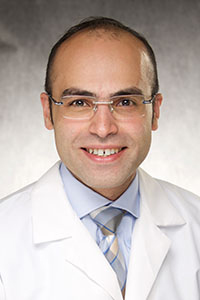 Associate of Internal Medicine - General Internal Medicine
Contact Information
Primary Office
SE 636 GH
200 Hawkins Drive
Iowa City, IA 52242
319-356-4019
Education
MD, University of Aleppo Faculty of Medicine

Internship, Islamic Hospital / Jordan Medical Council
Resident, Internal Medicine, University of Nevada School of Medicine
Licensure and Certifications
Federal Controlled Substance Certification - United States Department of Justice, Drug Enforcement Administration
Iowa Controlled Substance Certification - Iowa Board of Pharmacy
Iowa Medical License - Iowa Board of Medicine
Publications
Liu, X., Dawod, Y., Wonnaparhown, A., Shafi, A., Doo, L., Yoo, J. W., Ko, E. & Choi, Y. S. (2017). Effects of hospital palliative care on health, length of stay, and in-hospital mortality across intensive and non-intensive-care units: A systematic review and metaanalysis. Palliative & Supportive Care, 15(6), 741-752. PMID: 28196551.
Hasan, M., Malalur, P., Agastya, M., Malik, A. O., Dawod, Y., Jaradat, M., Yoo, J. W. & Makar, R. (2016). A high-value cost conscious approach to minimize heparin induced thrombocytopenia antibody (HITAb) testing using the 4T score. J Thromb Thrombolysis, 42(3), 441-6. PMID: 27377975.
Bartolome, B., Thao, C., Dawod, Y. & Luraschi, M. (2016). Medical image of the week: Coffee bean and whirlpool signs. Southwest J Pulm Crit Care, 12(1), 30-1.