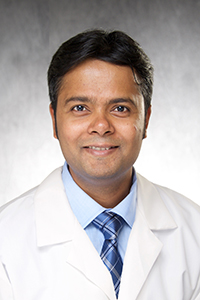 Fellow Associate of Neurology
Contact Information
Primary Office
S203 GH
200 Hawkins Dr.
Iowa City, IA 52242
--
Education
MBBS, Kasturba Medical College Manipal

Resident, Neurology, Southern Illinois University of Medicine
Fellow, Neurology, University of Iowa
Publications
Dandapat, S., Robinson, J. G. (2016). Guidelines for Management of Hyperlipidemia: Implications for Treatment of Patients with Stroke Secondary to Atherosclerotic Disease. Current neurology and neuroscience reports, 16(3), 24. PMID: 26838351.
Dandapat, S., Bhargava, P. & Ala, T. A. (2015). Familial transient global amnesia. (Vols. 90). (5), pp. 696-7. Mayo Clinic proceedings. PMID: 25939944.
Siddiqui, F. M., Dandapat, S., Banerjee, C., Zuurbier, S. M., Johnson, M., Stam, J. & Coutinho, J. M. (2015). Mechanical thrombectomy in cerebral venous thrombosis: systematic review of 185 cases. Stroke, 46(5), 1263-8. PMID: 25899238.