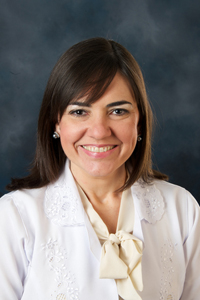 Director, Electron Microscopy Laboratory
Head, Division of Renal Pathology
Clinical Associate Professor of Pathology
Contact Information
Office
5232 Carver Pavilion (RCP)
Iowa City, IA 52242
319-353-6212
Education
MD, Universidade Federal do Ceara, Brazil

Resident, Pathology, University of Maryland Medical Center
Fellow, Renal Pathology, The Johns Hopkins University
Fellow, Transplantation and Liver Pathology, University of Pittsburgh Medical Center
Postdoctoral Fellow, Anatomic Pathology, University of Iowa Carver College of Medicine
Licensure and Certifications
Anatomic Pathology - The American Board of Pathology
State of Iowa Medical License - Iowa Board of Medicine
Research Summary
Interests:
1. Medical renal diseases, specifically: mechanisms of podocyte injury and complement related immune mediated glomerulonephritis
2. Transplantation pathology, specifically: mechanisms of rejection in allograft kidneys and pancreas
Publications
Oo SZMWH,, Freese, M. E., Holanda, D. G. & Thomas, C. P. (2020). Spontaneous remission of genetic, apparent primary, FSGS presenting with nephrotic syndrome challenges traditional notions of primary FSGS. Journal of nephrology. PMID: 32852700.
Giudici, M. C., Ahmad, F. & Holanda, D. G. (2019). Patient with a PRKAG2 mutation who developed Immunoglobulin A nephropathy: A case report. European Heart Journal - Case Reports, 3(2). DOI: 10.1093/ehjcr/ytz038.
Mapuskar, K. A., Wen, H., Holanda, D. G., Rastogi, P., Steinbach, E., Han, R., Coleman, M. C., Attanasio, M., Riley, D. P., Spitz, D. R., Allen, B. G. & Zepeda-Orozco, D. (2019). Persistent increase in mitochondrial superoxide mediates cisplatin-induced chronic kidney disease. Redox Biology, 20, 98-106. DOI: 10.1016/j.redox.2018.09.020.
Kuppachi, S., Holanda, D., Eberlein, M., Alexiev, B., Tyler, A. J., Wissel, M. C., Kleiboeker, S. B. & Thomas, C. P. (2017). An Unexpected Surge in Plasma BKPyV Viral Load Heralds the Development of BKPyV-Associated Metastatic Bladder Cancer in a Lung Transplant Recipient With BKPyV Nephropathy. American Journal of Transplantation, 17(3), 813-818. PMID: 27647675.
Furusato, B., Burke, A. P., Sesterhenn, I. A. & Holanda, D. G. (2017). Chapter 10: Urinary System. In Anatomic and Clinical Pathology Board Review. pp. 259-279.
Field, E. H., Kuppachi, S., Zepada-Orozco, D. & Holanda, D. G. (2016). P113 Predictive value of C1q donor specific antibody in identifying pathologic features of AMR. (Vols. 77). pp. 121. Human Immunology. DOI: 10.1016/j.humimm.2016.07.178.
Kuppachi, S., Holanda, D. & Thomas, C. (2016). Light Chain Deposition Disease After Kidney Transplantation With Long Graft Survival: Case Report. Transplantation Proceedings, 48(1), 255-258. DOI: 10.1016/j.transproceed.2015.12.009.
Kuppachi, S., Holanda, D., Gallegos, S. & Field, E. H. (2016). C1q Donor-Specific Antibody Associates with Post-transplant Biopsy Findings in Highly- Sensitized Kidney Transplant Recipients. Clinical transplants, 32, 127-134. PMID: 28564530.
Kuppachi, S., Kaur, D., Holanda, D. G. & Thomas, C. P. (2015). BK polyoma virus infection and renal disease in non-renal solid organ transplantation. Oxford University Press, 9(1).
Ishigami, K., Leite, L. V., Pakalniskis, M., Lee, D. K., Holanda, D. G. & Kuehn, D. M. (2014). Tumor Grade of Clear Cell Renal Cell Carcinoma Assessed by Contrast-Enhanced Computed Tomography. SpringerPlus, 3, 394. DOI: 10.1186/2193-1801-3-694.
Ishigami, K., Pakalniskis, M. G., Leite, L. V., Lee, D. K., Holanda, D. G. & Rajput, M. (2014). Characterization of renal cell carcinoma, oncocytoma, and lipid-poor angiomyolipoma by unenhanced, nephrographic, and delayed phase contrast-enhanced computed tomography. Cin Imaging, 14, 238-1. PMID: 25457535.
George, J. N., Nester, C. M. (2014). Syndromes of Thrombotic Microangiopathy. New England Journal of Medicine, 371(7), 654-666. DOI: 10.1056/nejmra1312353.
Haas, M., Sis, B., Racusen, L. C., Solez, K., Glotz, D., Colvin, R. B., Castro, M. C., David, D. S., David-Neto, E., Bagnasco, S. M., Cendales, L. C., Cornell, L. D., Demetris, A. J., Drachenberg, C. B., Farver, C. F., Farris, 3rd, A. B., Gibson, I. W., Kraus, E., Liapis, H., Loupy, A., Nickeleit, V., Randhawa, P., Rodriguez, E. R., Rush, D., Smith, R. N., Tan, C. D., Wallace, W. D., Mengel, M. (2014). Banff 2013 meeting report: inclusion of c4d-negative antibody-mediated rejection and antibody-associated arterial lesions. (Vols. 14). (2), pp. 272-83. American journal of transplantation : official journal of the American Society of Transplantation and the American Society of Transplant Surgeons. PMID: 24472190.
Zhang, Y., Nester, C. M., Holanda, D. G., Marsh, H. C., Hammond, R. A., Thomas, L. J., Meyer, N. C., Hunsicker, L. G., Sethi, S. & Smith, R. J. (2013). Soluble CR1 therapy improves complement regultion in C3 glomerulopathy. Journal of American Society of Nephrology. PMID: 23907509.
Gbadegesin, R. A., Brophy, P., Adeyemo, A., Hall, G., Gupta, I. R., Hains, D., Bartkowiak, B., Rabinovich, C. E., Chandrasekharappa, S., Homstad, A., Westreich, K., Wu, G., Liu, Y., Holanda, D. G., Clarke, J., LAvin, P., Selim, A., Miller, S., Winer, J. S., Ross, S. S., Foreman, J., Rotimi, C. & Winn, M. P. (2013). TNXB Mutations Can Cause Vesicoureteral Reflux. J Am Soc Nephrol. PMID: 23620400.
Tohme, F. A., Katz, D., Holanda, D. G. & Thomas, C. P. (2013). Quiz page April 2013: Recurrent episodes of acute kidney injury in a kidney transplant recipient. Am J Kidney Dis, 61(4), A22-4. PMID: 23497770.
Stewart, Z., Collins, T., Schlueter, A., Raife, T., Holanda, D. G., Nair, R., Reed, A. & Thomas, C. P. (2012). Case report: Eculizumab rescue of severe accelerated antibody-mediated rejection after ABO-incompatible kidney transplant. Transplant Proc, 44(10), 3033-6. PMID: 23195021.
Holanda, D. G., Acharya, V. K., Dogan, A., Racusen, L. C. & Atta, M. G. (2011). Atypical presentation of atypical amyloid. Nephrol Dial Transplant, 26(1), 373-6. PMID: 20940371.
Lipson, E. J., Huff, C. A., Holanda, D. G., McDevitt, M. A. & Fine, D. M. (2010). Lenalidomide-induced acute interstitial nephritis. Oncologist, 15(9), 961-4. PMID: 20709889.
Holanda, D., Zhao, M. Y., Rapoport, A. P., Garofalo, M., Chen, Q. & Zhao, X. F. (2008). Primary gastric T cell lymphoma mimicking marginal zone B cell lymphoma of mucosa-associated lymphoid tissue. Journal of Hematopathology, 1(1), 29-35. PMID: 19669202.
Holanda, D., Kelley, W., Duh, S. H., Snyder, J. & Christenson, R. (2008). Validation of the monoclonal N-terminal-pro B-type natriuretic peptide immunoassay on the dimension vista® system. Annals of the American Journal of Clinical Chemistry and Laboratory Medicine.
Holanda, D. G., Bastros, A. V. & Medeiros, F. C. (1996). Evaluation of the Ovarian Reserve in 80 Infertile Women prior and following the administration of Clomiphene Citrate. III Medical Student's Regional Scientific Meeting.
Holanda, D. G., Bastos, A. & Medeiros, F. C. (1995). Assessment of FSH and LH serum levels and fertility before and after Clomiphene Citrate administration. Annual Brazilian Society of Gynecology and Obstetrics Meeting.