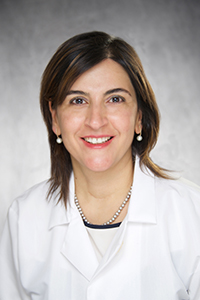 Clinical Assistant Professor of Psychiatry
Education
MD, Hacettepe University Medical School
PhD, Physiology, Hacettepe University Medical School

Resident, Psychiatry, University of Iowa Hospitals and Clinics
Publications
Simsek-Duran, F., Li, F., Ford, W., Swanson, R. J., Jones, Jr, H. W. & Castora, F. J. (2013). Age-associated metabolic and morphologic changes in mitochondria of individual mouse and hamster oocytes. PloS one, 8(5), e64955. PMID: 23741435.
Ambrozewicz, M. A., Khraibi, A. A., Simsek-Duran, F., DeBose, S. C., Baydoun, H. A. & Dobrian, A. D. (2011). Different natriuretic responses in obese and lean rats in response to nitric oxide reduction. American journal of hypertension, 24(8), 943-50. PMID: 21562602.
Duran, H. E., Simsek-Duran, F., Oehninger, S. C., Jones, Jr, H. W. & Castora, F. J. (2011). The association of reproductive senescence with mitochondrial quantity, function, and DNA integrity in human oocytes at different stages of maturation. Fertility and sterility, 96(2), 384-8. PMID: 21683351.
Tatlican, S., Duran, F. S., Eren, C., Eskioglu, F., Dikmenoglu, N., Oktay, B., Durmazlar, S. P. & Canpolat, F. (2010). Reduced erythrocyte deformability in active and untreated Behçet's disease patients. Int J Dermatol, 49(2), 167-71.
Simsek-Duran, F., Ertunc, M. & Onur, R. (2009). The effects of pentoxifylline on skeletal muscle contractility and neuromuscular transmission during hypoxia. Indian journal of pharmacology, 41(5), 213-7. PMID: 20177491.
Coleman, W. L., Bill, C. A., Simsek-Duran, F., Lonart, G., Samigullin, D. & Bykhovskaia, M. (2008). Synapsin II and calcium regulate vesicle docking and the cross-talk between vesicle pools at the mouse motor terminals. The Journal of physiology, 586(Pt 19), 4649-73. PMID: 18669537.
Simsek-Duran, F., Lonart, G. (2008). The role of RIM1alpha in BDNF-enhanced glutamate release. Neuropharmacology, 55(1), 27-34. PMID: 18499195.
Lonart, G., Tang, X., Simsek-Duran, F., Machida, M. & Sanford, L. D. (2008). The role of active zone protein Rab3 interacting molecule 1 alpha in the regulation of norepinephrine release, response to novelty, and sleep. Neuroscience, 154(2), 821-31. PMID: 18495360.
Lonart, G., Simsek-Duran, F. (2006). Deletion of synapsins I and II genes alters the size of vesicular pools and rabphilin phosphorylation. Brain research, 1107(1), 42-51. PMID: 16844103.
Simsek-Duran, F., Linden, D. J. & Lonart, G. (2004). Adapter protein 14-3-3 is required for a presynaptic form of LTP in the cerebellum. Nature neuroscience, 7(12), 1296-8. PMID: 15543142.