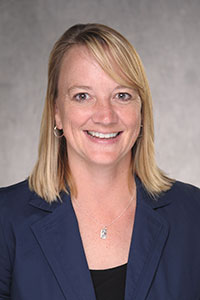 Academic Coordinator of Clinical Education
Clinical Assistant Professor of Physical Therapy and Rehabilitation Science
Contact Information
Primary Office
1-241 Medical Education Building (MEB)
Iowa City, IA 52242
319-335-9798
Education
BA, Social Work, The University of Iowa
MPT, Physical Therapy, The University of Iowa
PhD, Educational Psychology, The University of Iowa

OCRME Teaching Scholars Program, The University of Iowa Carver College of Medicine
Licensure and Certifications
Advanced Credentialed Clinical Instructor - American Physical Therapy Association (APTA)
Trainer - Clinical Education Training and Credentialing Program - American Physical Therapy Association (APTA)
Credentialed Clinical Instructor - American Physical Therapy Association (APTA)
Physical Therapist #02076 - Iowa Department of Public Health Bureau of Professional Licensure (Board of Physical and Occupational Therapy)
Publications
Wilken, J. M., Sass, K. J. & O'Sullivan, S. B. (2018). Functional Training, Equipment, Devices, and Technologies. In S. O'Sullivan , R. Siegelman & S. Shaffer , Sutlive (Eds.) 2019 National Physical Therapy Examination Review and Student Guide. (22) Evanston, IL: TherapyEd.
Shields, R. K., Dudley-Javoroski, S., Sass, K. J. & Becker, M. (2018). Benchmarking the Academic Physical Therapy Environment to Understand the Student Experience. Phys Ther, 98(8), 658-669. PMID: 29684180.
Sass, K. J., Frank, L., Thiele, A., Newton, A. D., Bork, B. E., Hartung, S. & Rosenbaum, M. (2011). Physical therapy clinical educators' perspectives on students achieving entry-level clinical performance. J Phys Ther Educ, 25(3), 46-52.
Shields, R. K., Frey Law, L. A., Reiling, B., Sass, K. J. & Wilwert, J. (1997). Effects of Electrically Induced Fatigue on the Twitch and Tetanus of the Paralyzed Soleus in Humans. J Appl Physiol (1985), 82(5), 1499-1507. PMID: 9134899.