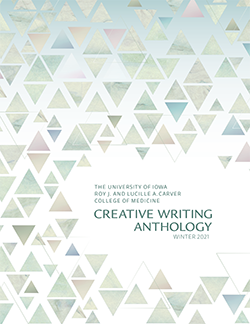 Each year the Carver College of Medicine announces a request for poems and/or short stories which will be reviewed and judged for publication in a College of Medicine anthology of creative writing works.

Read the 2021 Anthology
Archive

Read the 2020 Anthology
Eligibility
The following are eligible to submit a creative writing piece in the creative writing contest.
Faculty with a primary appointment in the College of Medicine
Resident and fellow physicians
Postdoctoral PhD fellows within the College of Medicine
Types of work
Submissions must be original previously unpublished works of fiction or poetry in English and authored by the submitter. Fiction must be a short story of no more than 2,500 words; poems must be no more than 140 words.
Writers may submit up to two poems and one short story.
Short stories may be any genre and all creative work may be about any subject. Work need not be concerned with healthcare and/or illness. All submissions must be submitted as a Word document, 12 pt. font size with 1-inch margins; poems should fit on one page. No nonfiction or personal writing will be considered.
If a submission does not meet the guidelines it will not be considered. Email Cate Dicharry with questions at cate-dicharry@uiowa.edu.
Submission details
The submission deadline is October 30, 2020.
All entries will be read blind. Before you submit, please remove your name and any other identifying information from your short story or poem.
Winners will be notified in the month of November.
Funding for this publication was made possible through the generous support of the Tyrone D. Artz Deanship in the Roy J. and Lucille A. Carver College of Medicine.