Career Information
Nuclear Medicine procedures use radioactive materials to: Nuclear Medicine Technology is the medical specialty concerned with the use of small amounts of radioactive material for diagnostic, therapeutic, and research purposes. It is a vigorous, dynamic field that has grown phenomenally over the years and is expected to continue to grow in the future.
Perform body function studies and organ imaging,
Analyze biologic specimens, and
Treat disease.
Organ imaging in patients requires the intravenous, oral administration, or inhalation of radioactive materials (called radiopharmaceuticals). When administered, these radiopharmaceuticals localize in a specific organ or organ system of the body. Instruments called scintillation cameras can then detect the radiation emitted by the radiopharmaceutical concentrated in the organ and produce an image of the organ on a computer screen or photographic film. These images provide a way of studying the structure and measuring the function of that organ, as well as a way of identifying tumors, areas of infection, or other disorders. Imaging procedures provide information that can assist the physician in diagnosing diseases. The patient experiences little or no discomfort and the radiation dose is small.
Radioactive analyses of biologic specimens provide great accuracy and sensitivity. Blood, urine, or other specimens collected from the patient may be combined with radioactive materials to measure the level of various components in the sample such as hormones, drugs, or other chemical substances. Sample collection is simple, and because the radioactive material is added to the specimen outside the body, the patient is not exposed to radiation.
Therapeutic doses of radioactive materials can be administered to patients to treat a specific disease. Although not used as frequently as diagnostic nuclear medicine procedures, treatment of disease with radiopharmaceuticals is a valuable contribution to patient care.
Graduates from our program are working in a variety of areas within the field of nuclear medicine including research, sales, education, and administration, as well as, clinical nuclear medicine, nuclear cardiology and positron emission tomography (PET).  The UIHC NMT Program does provide a firm foundation for ongoing learning and development within the field as evidenced by the success of our graduates in the workforce. It also provides a solid base for further education in healthcare-related disciplines as evidenced by the fact that several of our graduates have gone on to complete advanced degrees in radiation biology, health physics, medicine, hospital administration, and education.
Program Information
The Nuclear Medicine Technology Program was established in 1967 by the University of Iowa Hospitals & Clinics, in conjunction with University of Iowa Roy J. and Lucille A. Carver College of Medicine (CCOM). It was only the second baccalaureate program in the country to come into existence. University of Iowa Hospitals & Clinics is a university owned teaching hospital and is the official sponsor of the program. However, the program is also recognized as one of the Carver College of Medicine's associated medical sciences and, as such, is able to award an undergraduate degree from the University of Iowa.
Our baccalaureate program in Nuclear Medicine Technology requires four years of study. The Bachelor of Science with a major in nuclear medicine technology requires four years of study with a minimum of 120 s.h. of credit. The first two years, completed in the College of Liberal Arts, concentrate on general education requirements and the prerequisite coursework needed to qualify for admission into the NMT program. Accepted students then complete 60 s.h. of course work in the major and elective course work sufficient to complete the 120 s.h. required for graduation.
Admission to the major is competitive with two acceptance options:
Early Acceptance Option

Eligible students will have half (5) of the prerequisite courses and 30sh of credit completed by the end of the spring semester with a documented plan to complete the remaining prerequisites and a total of 60sh of credit by the start of the program of the following year.  Candidates must have an overall cumulative GPA of 2.50.
Limited early acceptance positions are available.  Preference will be given to candidates with documented hands-on patient care and job shadowing experiences. 

Standard Acceptance Option

Prerequisite courses must be completed prior to the start of the program.  Preference will be given to applicants whose prerequisites are completed by June 1.
The program accepts a maximum of 8 students per year. Students must apply to the major by Jan. 15. Personal interviews with qualified applicants are scheduled in February, and the class typically is selected by March 1. The program begins each fall semester and lasts two years.
Students who are admitted to the major become Carver College of Medicine students. Upon completing the program successfully, they are granted a Bachelor of Science degree and a certificate of training. Graduates are eligible for national certification as nuclear medicine technologists.
The NMT Program Clinical Years (junior and senior years)
More than 600 hours of classroom including work in nuclear medicine, PET & CT procedures, radiopharmacy, radiation safety & radiobiology, radiation physics, nuclear medicine, PET & CT instrumentation, patient care, pathology, cross sectional anatomy, medical and professional ethics, healthcare administration and quality management, medical research methodologies and computer applications.
More than 2400 hours of clinical experience at the University of Iowa Hospital and Clinics and the Veterans Administration Medical Center. Clinical rotations begin during the first week and involve progressive responsibility in performing diagnostic nuclear medicine, PET and CT imaging and lab tests, cardiac stress testing, radionuclide therapy, radiopharmacy, quality control, and computer acquisition and analysis.
Students participating in clinical rotations at other facilities are required to meet the immunization and testing requirements of those facilities.
Accreditation
The Nuclear Medicine Technology Program is accredited by the Joint Review Committee on Educational Programs in Nuclear Medicine Technology (JCRNMT).
Joint Review Committee on Educational Programs in Nuclear Medicine Technology
820 W Danforth Road #B1
Edmond, OK 73003
Phone: 1-405-285-0546
Fax: 405-285-0579
Links of Interest
Faculty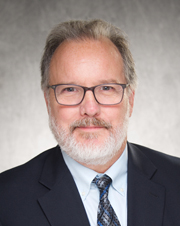 Anthony W. Knight, PhD, MBA, CNMT, RT(N), FSNMMITS
Clinical Associate Professor
Director, Nuclear Medicine Technology Education
Department of Radiology, 3834 JPP
1-319-356-2954
anthony-knight@uiowa.edu
Jay Smith, MA, CNMT, RT(R)(N)
Radiation Sciences Educator
1-319-356-2920
jay-j-smith@uiowa.edu