During the past two years, the Carver College of Medicine (CCOM) and Office of Strategic Investments has sponsored training programs for developing informatics skills among early career faculty, residents, fellows, and selected staff, through coursework known as the AMIA 10 x 10 program.  The CCOM aims to build an Informatics community to develop a cadre of faculty, residents, fellows, and staff practicing at University of Iowa Health Care (UIHC) with Informatics skills to improve their clinical practice and advance scientific scholarship in this field.
The AMIA 10x10 course
The course provides a detailed overview of biomedical and health informatics to those who will work at the interface of healthcare and information technology (IT). It also provides a broad understanding of the field from the vantage point of those who implement, lead, and develop IT solutions for improving health, healthcare, public health, and biomedical research. 
An overview of the AMIA 10x10 program with a brief video of William Hersh, MD is available here.  Dr. Hersh was a principal in creating the program with the American Medical Informatics Associateion (AMIA) during 2005.  Links are provided on this page to course descriptions, an introductory video by Dr. Hersh, and frequently asked questions (FAQs).  
CCOM faculty member Dr. Matthew Rysavy (Pediatrics) states "The AMIA 10x10 program allowed me to better appreciate the scope, terminology, and major questions and focus areas of biomedical and clinical informatics.  As a physician and clinical researcher, the program provided insights and practical skills to help with my own work." 
Interested in completing this coursework?
We are funding a limited number of faculty, residents, and fellows to complete this coursework.  An application form is available online.  In addition to completing the online coursework, participants are expected to write and present a final paper which may be considered for publication or presentation. 
The CCOM Informatics Community
We have established a community of CCOM Informaticists who are applying these skills in their work at UIHC.  You are invited to join us with presentations, journal clubs, and other activities. Previous meeting information and links to recorded presentations can be found here.
Next Meeting: June 8, 2023 | 12:00-1:00pm | via Zoom  Request the zoom link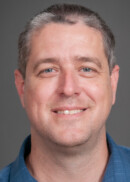 Jake Oleson, PhD - Professor
Director of the Center for Public Health Statistics
Director of Graduate Studies, Dept. of Biostatistics
University of Iowa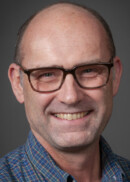 Knute Carter, PhD - Clinical Associate Professor 
Deputy Director of the Center for Public Health Statistics
University of Iowa
Presentation: Wellmark Data Resources at the Center for Public Health Statistics
Drs. Oleson and Carter are faculty in the Department of Biostatistics and they direct the Center for Public Health Statistics (CPHS). CPHS was established in 1999 under the strategic plan for the UI College of Public Health. Administratively designated as a collegiate center, the CPHS functions collaboratively with collegiate departments and centers, University groups, and outside entities in fulfillment of its mission. CPHS provides a variety of data management and statistical analysis services, from simple data preparation to full-time project statisticians. CPHS services include, but are not limited to, data management, data analysis, power calculations, writing of statistical methods, program evaluation, reporting and graphical summarization, and software development/assistance. 
In this talk, we will discuss our partnership with Wellmark to allow University of Iowa researchers to analyze health claims data processed by Wellmark. The partnership between Wellmark and CPHS has provided nearly two decades of support to members of the UI research community involved in research based on health claims data. The data repository includes select administrative claims data and enrollment periods on individuals residing in Iowa and South Dakota who have health care insurance processed by Wellmark. Any University of Iowa researcher may request access to analyze data from the Wellmark data repository. In this presentation we will provide more details of what is available in the repository and how to gain access to analyze the data.
 Clinical Informatics Journal Club
The Clinical Informatics Journal Club, hosted by Dr. Lindsey Knake, meets the 3rd Tuesday of every other month. The next Journal Club meeting is scheduled for December 2022, from 3 - 4 pm via Zoom or in person in 7830-C JPP.  To receive a Zoom link, please contact Marian Carson.
Links
For more information, contact Dr. Kirk T. Phillips, Director of Biomedical and Health Informatics Development at kirk-phillips@uiowa.edu or (319) 430-9566.