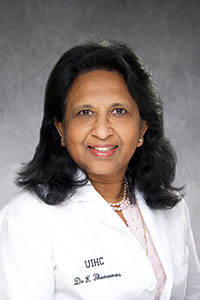 Clinical Associate Professor of Anesthesia - Obstetrical Anesthesia
Clinical Associate Professor of Anesthesia - Hyperbaric Oxygen Therapy
Contact Information
Primary Office
6539 John Colloton Pavilion
200 Hawkins Drive
Iowa City, IA 52242
319-356-2633
Education
MBBS, University of Kelaniya
MD, University of Colombo
MME, University of Iowa
MS, Healthcare Delivery Science, Dartmouth College

Internship, Surgery, Colombo North Teaching Hospital
Resident, Anesthesiology, National Hospital of Sri Lanka
Internship, Internal Medicine, University of Iowa, Carver College of Medicine
Resident, Anesthesia, University of Iowa, Carver College of Medicine
Resident, Anesthesiology, National Hospital of Sri Lanka
Publications
Steelman, V. M., Thenuwara, K., Shaw, C. & Shine, L. (2019). Unintentionally retained Guidewires: a descriptive study of 73 sentinel events. Jt Comm J Qual Patient Saf, 45(2), 81-90. PMID: 30262391.
Thenuwara, K. N., Yoshimura, T., Nakata, Y. & Dexter, F. (2018). Time to recovery after general anesthesia at hospitals with and without a phase I post-anesthesia care unit: a historical cohort study. Can J Anaesth, 65(12), 1296-1302. PMID: 30209784.
Ituk, U., Thenuwara, K. (2018). The effect of a single intraoperative dose of intravenous dexamethasone 8?mg on post-cesarean delivery analgesia: a randomized controlled trial. Int J Obstet Anesth, 35, 57-63. PMID: 29773484.
Dexter, F., Epstein, R. H., Thenuwara, K. & Lubarsky, D. A. (2018). Large variability in the diversity of physiologically complex surgical procedures exists nationwide among all hospitals including among large teaching hospitals. Anesth Analg, 127(1), 190-197. PMID: 29210785.
Dexter, F., Epstein, R. H., Jarvie, C. & Thenuwara, K. N. (2018). At all hospitals in the State of Iowa over a decade, the number of cases performed during weekends or holidays increased approximately proportionally to the total caseload. J Clin Anesth, 50, 27-32. PMID: 29958124.
Thenuwara, K., Thomas, J., Ibsen, M., Ituk, U., Choi, K., Nickel, E. & Goodheart, M. J. (2017). Use of hyperbaric oxygen therapy and PEGylated carboxyhemoglobin bovine in a Jehovah's Witness with life-threatening anemia following postpartum hemorrhage. Int J Obstet Anesth, 29, 73-80. PMID: 27890467.
Thenuwara, K. (2015). Central cord syndrome: a rare neurological complication following hypotension during general anesthesia in an elderly patient. J Neurosurg Anesthesiol, 27(1), 76-7. PMID: 24781670.
Dexter, F., Davis, M., Egger Halbeis, C. B., Marjamaa, R., Marty, J., McIntosh, C., Nakata, Y., Thenuwara, K. N., Sawa, T. & Vigoda, M. (2006). Mean operating room times differ by 50% among hospitals in different countries for laparoscopic cholecystectomy and lung lobectomy. J Anesth, 20(4), 319-22. PMID: 17072700.
Thenuwara, K., Todd, M. M. & Brian, Jr, J. E. (2002). Effect of mannitol and furosemide on plasma osmolality and brain water. Anesthesiology, 96(2), 416-21. PMID: 11818776.
Nirmalan, M., Thenuwara, K. N. & Rodrigo, N. (1995). Delayed recovery after spinal anaesthesia using 0.5% cinchocaine. Ceylon Med J, 40(3), 118-9. PMID: 8536326.
Rodrigo, N., Miranda, C. & Thenuwara, K. N. (1994). Cardiac anthemia following intravenous suxamethonium in a patient with a history of prolong immobilization. Sri Lankan Journal of Anaesthesiology / Journal of the College of Anaesthesiologists Sri Lanka.