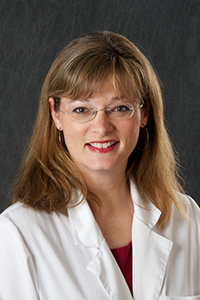 Adjunct Assistant Professor of Anesthesia - Chronic Pain Medicine
Adjunct Assistant Professor of Pharmacy Practice and Science
Contact Information
Primary Office
8476 JCP
200 Hawkins Drive
Iowa City, IA 52242
--
Education
BS, Pharmacy, University of Iowa
PharmD, Pharmaceutical, University of Iowa

Resident, Pharmacy, University of Iowa, Carver College of Medicine
Publications
Kral, L., Ku, J., Kematick, B. S. & Fudin, J. (2019). Pearls for opioid use in seriously ill patients. J Pain Palliat Care Pharmacother, 33(1-2), 54-58. PMID: 31592735.
Kral, L., Swaran Singh, T. S. (2016). Medical Management of Acute Pain. In F. Tennant , N. Kean (Eds.) Opioid Prescribing and Monitoring: How to Combat Opioid Abuse and Misuse Responsibly. Montclair, NJ: Practical Pain Management, Vertical Health LLC.
Oltrogge, P. K., Grieve, B., Kral, L. & Wibbenmeyer, L. (2016). Evaluation of Adjunctive Ketamine Infusions in Post-operative Burn Patients. (Vols. 44). pp. 475. Philadelphia, PA: Care Medicine.
Alldredge, B., Corelli, R. & Ernst, M. (2016). Pain and it's Management: Neuropathic Pain and Postherpetic Neuralgia. (10), pp. 7; 126-130. Applied Therapeutics.
Kral, L., Jackson, K. & Uritsky, T. (2015). A Practical Guide to Tapering Opioids. Mental Health Clinician.
Frederickson, T., Gordon, D., DePinto, M., Kral, L., Furnish, T., Gupta, R. & Austin, P. (2015). Reducing Adverse Drug Events Related to Opioids Implementation Guide. Society of Hospital Medicine.
Kral, L. (2013). New Approaches to the Challenge of Treating Postherpetic Neuralgia. www.powerpak.com.
Herndon, C. M., Strassels, S. A., Strickland, J. M., Kral, L. A., Craig, D. S., Nesbit, S. A., Finley, R. S. & McPherson, M. L. (2012). Consensus recommendations from the strategic planning summit for pain and palliative care pharmacy practice. J Pain Symptom Manage, 43(5), 925-44.e1-10. PMID: 22560360.
(2012). Managing Adverse Drug Effects in Pain: Focus on Triptans and NSAIDS. Practical Pain Management.
Kral, L. (2007). Commonsense Use of Oxycodone. Pain Treatment Topics.
Kral, L. (2006). Safely Stopping Opioid Analgesics. Additional Treatment Forum.
Kral, L. (2006). Opioid Tapering: Safely Discontinuing Opioid Analgesics. Pain Treatment Topics.
Toombs, J. D., Kral, L. A. (2005). Methadone treatment for pain states. Am Fam Physician, 71(7), 1353-8. PMID: 15832538.