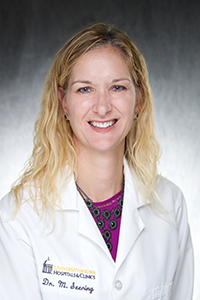 Clinical Assistant Professor
Clinical Assistant Professor of Anesthesia - Acute Pain and Regional Anesthesia
Contact Information
Primary Office
200 Hawkins Drive
Iowa City, IA 52242
--
Education
BA, Biology, University of Northern Iowa
MD, Medicine, University of Iowa

Internship, Anesthesia, University of Iowa
Resident, Medicine, University of Iowa
Publications
Campos, J. H., Seering, M. S. (2018). Does the amount of opioid consumption really matter in video-assisted thoracoscopic lobectomy-thoracic epidural analgesia versus liposomal bupivacaine. Journal of cardiothoracic and vascular anesthesia. PMID: 30143358.
Seering, M., Yap, P. (2017). Case Report: Troubleshooting an Outpatient Interscalene Nerve Catheter.
Seering, M., Maktabi, M. (2006). Gender related laryngeal trauma postoperatively.
Seering, M., Maktabi, M. (2002). Studying laryngeal trauma from fiberoptic intubation.