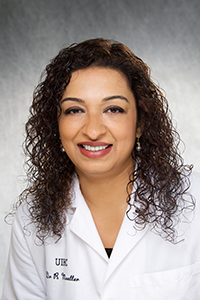 Clinical Associate Professor of Anesthesia - Neuroanesthesia
Clinical Associate Professor of Anesthesia - Hyperbaric Oxygen Therapy
Contact Information
Primary Office
6 JCP
200 Hawkins Drive
Iowa City, IA 52242
319-356-2633
Education
MBBS, Medicine, University of Bombay (Goa Medical College)

Resident, Anesthesia, University of Iowa Health Care, Carver College of Medicine
Publications
Nourski, K. V., Banks, M. I., Steinschneider, M., Rhone, A. E., Kawasaki, H., Mueller, R. N., Todd, M. M. & Howard, 3rd, M. A. (2017). Electrocorticographic delineation of human auditory cortical fields based on effects of propofol anesthesia. Neuroimage, 152, 78-93. PMID: 28254512.
Mueller, R. N., Dexter, F., Truong, V. A. & Wachtel, R. E. (2015). Case Sequencing of Diagnostic Imaging Studies Performed Under General Anesthesia or Monitored Anesthesia Care During Nights and Weekends. A A Case Rep, 5(9), 162-6. PMID: 26417915.
Raw, R. M., Todd, M. M., Hindman, B. J. & Mueller, R. (2014). The overpowered mega-study is a new class of study needing a new way of being reviewed. (Vols. 120). (1), pp. 245-246. Anesthesiology. PMID: 24398747.
Mueller, R. N. (2013). Anesthesia for Posterior Fossa Surgery. In K. J. Ruskin , S. H. Rosenbaum , I. J. Rampil (Eds.) Fundamentals of Neuroanesthesia: A Physiologic Approach to Clinical Practice. pp. 209-222. New York, NY: Oxford University Press.
Frederickson, C. J., Giblin, L. J., Krezel, A., McAdoo, D. J., Mueller, R. N., Zeng, Y., Balaji, R. V., Masalha, R., Thompson, R. B., Fierke, C. A., Sarvey, J. M., de Valdenebro, M., Prough, D. S. & Zornow, M. H. (2006). Concentrations of extracellular free zinc (pZn)e in the central nervous system during simple anesthetization, ischemia and reperfusion. Exp Neurol, 198(2), 285-93. PMID: 16443223.
Mueller, R. (2005). The Perioperative Management of Brain Tumors. In A. D. Shaw , B. J. Riedel , A. W. Burton , A. I. Fields , T. W. Feeley (Eds.) Acute Care of the Cancer Patient. pp. 259-298. Boca Raton, FL: Taylor & Francis.
Mueller, R. N., Deyo, D. J., Brantley, D. R., Disterhoft, J. F. & Zornow, M. H. (2003). Lubeluzole and conditioned learning after cerebral ischemia. Exp Brain Res, 152(3), 329-34. PMID: 12904938.
Mueller, R. N., Uretsky, B. F., Hao, L., Walker, D. H., Panomitros, G. E. & Zornow, M. H. (2002). Cardiac arrest on induction of anesthesia due to triple vessel coronary artery disease despite a "Negative" angiogram. Anesthesiology, 97(3), 745-9. PMID: 12218547.
Sun, J., Hayward, C., Shinde, R., Christenson, R., Ford, S. P. & Butler, J. E. (1998). Antibody repertoire development in fetal and neonatal piglets. I. Four VH genes account for 80 percent of VH usage during 84 days of fetal life. J Immunol, 161(9), 5070-5078. PMID: 9794445.
Brown, W. R., Kacskovics, I., Amendt, B. A., Blackmore, N. B., Rothschild, M., Shinde, R. & Butler, J. E. (1995). The hinge deletion allelic variant of porcine IgA results from a mutation at the splice acceptor site in the first C alpha intron. J Immunol, 154(8), 3836-3842. PMID: 7706723.