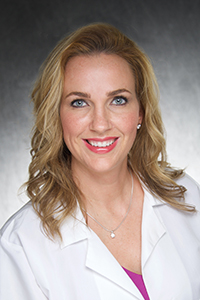 Clinical Director, Operating Room
Clinical Associate Professor of Anesthesia - Pediatric Anesthesia
Clinical Associate Professor of Anesthesia - Acute Pain and Regional Anesthesia
Contact Information
Primary Office
6 JCP
200 Hawkins Drive
Iowa City, IA 52242
319-356-2633
Education
BA, Biochemistry and Molecular Biology, Cornell College
MD, Medicine, Carver College of Medicine, University of Iowa

Internship, Anesthesia, Carver College of Medicine, University of Iowa
Resident, Anesthesia, Carver College of Medicine, University of Iowa
Fellow, Pediatric Anesthesia, Medical College of Wisconsin Children's Hospital
Publications
Titler, S. S., Pearson, A. C. (2020). Supporting lactation within an academic anesthesia department: obstacles and opportunities. Anesth Analg. PMID: 32467510.
Stein, K. M., Titler, S. s. (2017). Maxillomandibular fixation and anesthesia management. AANA J, 85(6), 469-477. PMID: 31573507.
Davidson, A. J., Disma, N., de Graaff, J. C., Withington, D. E., Dorris, L., Bell, G., Stargatt, R., Bellinger, D. C., Schuster, T., Arnup, S. J., Hardy, P., Hunt, R. W., Takagi, M. J., Giribaldi, G., Hartmann, P. L., Salvo, I., Morton, N. S., von Ungern Sternberg, B. S., Locatelli, B. G., Wilton, N., Lynn, A., Thomas, J. J., Polaner, D., Bagshaw, O., Szmuk, P., Absalom, A. R., Frawley, G., Berde, C., Ormond, G. D., Marmor, J. & McCann, M. E. (2016). Neurodevelopmental outcome at 2 years of age after general anaesthesia and awake-regional anaesthesia in infancy (GAS): an international multicentre, randomised controlled trial. Lancet, 387(10015), 239-50. PMID: 26507180.
Longmuir, S., Kitzmann, A. & Titler, S. (2014). Reply: To PMID 23896364. (Vols. 18). (2), pp. 209. J AAPOS. PMID: 24698631.
Longmuir, S., Titler, S., Johnson, T. & Kitzmann, A. (2013). Nd:YAG laser capsulotomy under general anesthesia in the sitting position. J AAPOS, 17(4), 417-9. PMID: 23896364.
Maktabi, M. A., Titler, S. S., Kadakia, S. & Conway, R. K. (2009). When fiberoptic intubation fails in patients with unstable craniovertebral junctions. Anesth Analg, 108(6), 1937-40. PMID: 19448225.
Cullen, J. J., Titler, S., Ephgrave, K. S. & Hinkhouse, M. M. (1999). Gastric emptying of liquids and postprandial pancreatobiliary secretion are temporarily impaired during endotoxemia. Dig Dis Sci, 44(11), 2172-7. PMID: 10573359.