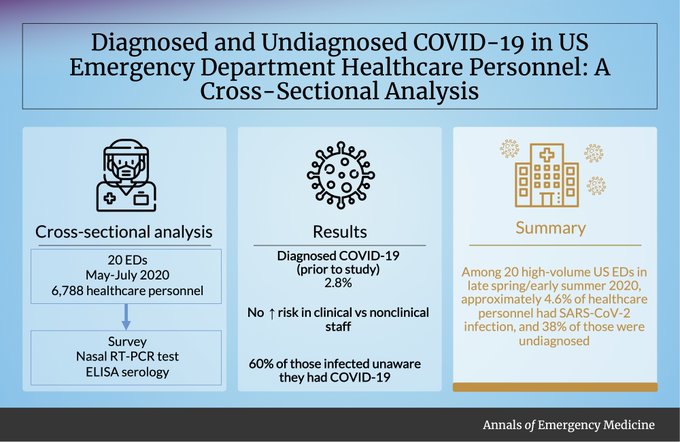 Dec. 18, 2020—The first manuscript from Project COVERED has been published in Annals of Emergency Medicine.
Nov. 13, 2020—The last COVERED participant completed 20 weeks of observation.
June 10, 2020—Sites have enrolled 1583/1600 participants, and results from over 1200 pairs of COVID-19 serology and nasal PCR tests have been reported to project participants! Project COVERED cloth masks are being shipped to sites.
May 22, 2020—All 20 Project COVERED sites have launched, and we have now enrolled over half of the total 1600 participants!
May 13, 2020—The first Project COVERED participants have enrolled! We are now launched at 7/20 sites!
May 8, 2020—Project COVERED has launched at the first site!
May 7, 2020—Nice work getting initial project approvals at your sites.  Today we have 19/20 site IRB determinations confirmed and 11/20 subcontracts complete!
May 6, 2020—Project COVERED hosted data training for site PIs and study coordinators. We have subcontracts with most sites and our first site will go live tomorrow!
April 21, 2020—Project COVERED hosted a Study Kickoff Call with representatives of all 20 participating sites.  Stay tuned for draft study forms, subcontracts, and laboratory information, which we expect to be distributed over the next several days.  We will be scheduling Site Readiness Calls in about 1 week.
Publication and Presentation List
---
Vaccination rates and acceptance of SARS-CoV-2 vaccination among U.S. emergency department health care personnel - PubMed
Symptoms of Anxiety, Burnout, and PTSD and the Mitigation Effect of Serologic Testing in Emergency Department Personnel During the COVID-19 Pandemic - PubMed
Diagnosed and Undiagnosed COVID-19 in US Emergency Department Health Care Personnel: A Cross-sectional Analysis - PubMed
Diagnosed and Undiagnosed COVID-19 in US Emergency Department Healthcare Personnel: A Cross-Sectional Analysis - Annals of Emergency Medicine
Dr. Kurt Weber: Accepted for Oral Presentation at SAEM2022
Public Health Threat from COVID-19 Infected Emergency Department Health Care Providers
Date: Wednesday, May 11, 2022
Time: 2:30 PM-2:42 PM (All times are CDT)
Location: Sheraton New Orleans: Napoleon Ballroom D2/3rd Floor (Room assignments subject to change)
In the News