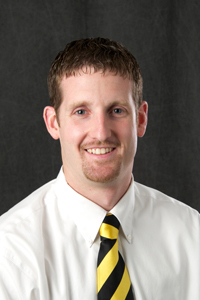 Assistant Chief Medical Information Officer, UI Hospitals and Clinics
Clinical Associate Professor of Emergency Medicine
Contact Information
Office
1008 Carver Pavilion (RCP)
200 Hawkins Drive
Iowa City, IA 52242
319-384-6562
Education
BS, Biology and Philosophy, Summa Cum Laude, Creighton University
MD, Research Distinction, University of Iowa Carver College of Medicine

Resident, Emergency Medicine, University of Iowa Hospitals and Clinics
Fellow, Primary Care Sports Medicine, University of Iowa Hospitals and Clinics
Licensure and Certifications
Controlled Substance Registration Certification
Iowa Controlled Substances Certification
Permanent medical license - Iowa Board of Medicine
Advanced Trauma Life Support (ATLS)
Advanced Cardiovascular Life Support (ACLS) - American Heart Association
American Heart Association Pediatric Advanced Life Support (PALS) - American Academy of Pediatrics
Publications
Hogrefe, C. P., Nugent, A., Harland, K. K. & House, H. (2012). A new way to address an old issue: the use of speech-to-text dictation to improve emergency medicine resident clinical efficiency.
Hogrefe, C. P., Faine, B. (2012). News flash: old mother hubbard reports the cupboard is bare…time for the FDA to let droperidol out of the (black) box.
Hogrefe, C. P., Faine, B., Van Heukelom, J. & Smelser, J. (2011). Treating primary headaches in the ED: can droperidol regain its role?. American Journal of Emergency Medicine.
Hogrefe, C. P., Ahmed, A., Bailey, O. & Buresh, C. (2011). Emergency Medicine. In Graber , Wilbur (Eds.) Family Practice Examination and Board review. (3) New York, McGraw-Hill Companies, Inc..
Hogrefe, C. P., Dickson, E., Ludwig, P., Ackermann, L., Stoll, L. & Denning, G. (2007). Exercise Enhances Myocardial Ischemic Tolerance via an Opioid Receptor-Dependent Mechanism. AJP: Heart and Circulatory Physiology.
Hogrefe, C. P. (2006). Call a Code. In Vital Signs. University of Iowa Carver College of Medicine.