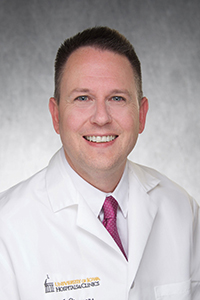 Clinical Associate Professor of Anesthesia - Critical Care Medicine
Clinical Associate Professor of Emergency Medicine
Contact Information
Office
8492 JCP
200 Hawkins Drive
Iowa City, IA 52242
319-356-2633
Education
BS, Psychology, Truman State University
Other, Biology, Truman State University
DO, Osteopathic Medicine, Kirksville College of Osteopathic Medicine
MS, Biosecurity and Disaster Preparedness, St. Louis University

Internship, Internal Medicine, Northeast Regional Medical Center
Resident, Internal Medicine, Northeast Regional Medical Center
Fellow, Critical Care Medicine, University of Iowa Health Care, Carver College of Medicine
Publications
Simmons, J., Adam, L. A. (2015). Principles of Postoperative Critical Care. In J. B. Hall , G. A. Schmidt , J. P. Kress (Eds.) Principles of Critical Care. (4th), pp. 1060-1076. McGraw-Hill.
Hata, J. S., Simmons, J. S., Kumar, A. B., Rickelman, J. H., Nickel, E. J., Simmons, S. T. & Torner, J. (2012). The acute effectiveness and safety of the constant-flow, pressure-volume curve to improve hypoxemia in acute lung injury. Journal of intensive care medicine, 27(2), 119-27. PMID: 21220269.
Duggal, A., Simmons, J. & Perez D'Empaire, P. A. (2012). Disaster Education and Training Resources. In J. C. Farmer , R. S. Wax & M. R. Baldisseri (Eds.) Preparing Your ICU for Disaster Response. (1st) Mount Prospect, IL: Society of Critical Care Medicine.
Simmons, J. (2011). Multisystem Organ Dysfunction Syndromes and SIRS. In Transport of the Critical Care Patient. (1st) Jones & Bartlett Learning.
Simmons, J. (2009). Postoperative Crises. In ACCP Critical Care Medicine Board Review. (20th) Basel: S. Karger AG.
Simmons, J. (2009). Disaster Medicine (Triage chapter). In AADM Board Review.
Hata, J. S., Shelsky, C. R., Hindman, B. J., Smith, T. C., Simmons, J. S. & Todd, M. M. (2008). A prospective, observational clinical trial of fever reduction to reduce systemic oxygen consumption in the setting of acute brain injury. Neurocritical care, 9(1), 37-44. PMID: 17985248.
Simmons, J., Robbins, G. B. & Suttmoeller, K. (2003). A Case of Olfactory Seizures: Herpes Zoster Encephalitis. In Hospital Physician. pp. 41-47.