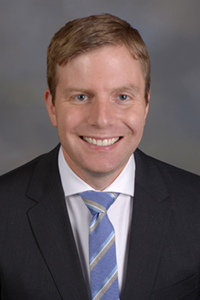 Clinical Assistant Professor of Ophthalmology and Visual Sciences
Contact Information
Primary Office
11190B Pomerantz Family Pavilion
200 Hawkins Dr.
Iowa City, IA 52242
319-356-3938
Education
MD, Cleveland Clinic Lerner College of Medicine, Case Western Reserve University

Resident, Ophthalmology, Cole Eye Institute, Cleveland Clinic Foundation
Fellow, Glaucoma, Jules Stein Eye Institute, UCLA
Research Summary
I hope to increase our understanding of the molecular mechanism that underlies regulation between chronic inflammation and programmed cell death. I plan to develop a cellular model to see if it is possible to regulate their apoptotic switch. Learning about how cells choose between inflammation and apoptosis may help to develop neuroprotective strategies useful in glaucoma.
Publications
Sears, N. C., Boese, E. A., Miller, M. A. & Fingert, J. H. (2019). Mendelian genes in primary open angle glaucoma. Experimental eye research, 186, 107702. PMID: 31238079.
Caprioli, J., Mohamed, L., Morales, E., Rabiolo, A., Sears, N., Pradtana, H., Alizadeh, R., Yu, F., Afifi, A. A., Coleman, A. L. & Nouri-Mahdavi, K. (2018). A Method to Measure the Rate of Glaucomatous Visual Field Change. Translational vision science & technology, 7(6), 14. PMID: 30519499.
Cunningham, C., Sears, N. C., Sohn, E. (2017). Vascular Tufts of the Pupillary Margin. Eye Rounds.
Sears, N. C., Singh, A. & Singh, A. D. (2016). Ocular Adnexal Lymphoma Presenting as Refractory Unilateral Open-angle Glaucoma. Journal of glaucoma, 25(8), e741-4. PMID: 27300646.
Sears, N. C., Sears, J. E. (2016). Management of Pediatric Posterior Segment Trauma in Children. In E. I. Traboulsi , V. M. Utz (Eds.) Practical Management of Pediatric Ocular Disorders and Strabismus: A Case-Based Approach. pp. 307-312. New York: Springer. DOI: 10.1007/978-1-4939-2745-6_30.
Sears, N., Modi, Y. S., Engel, R. & Singh, R. P. (2015). Topiramate-induced myopic shift with associated retinal striae. Canadian Journal of Ophthalmology, 50(3), e46-e50. PMID: 26040233.
Sears, N., Yuan, A. (2015). A basic scientific understanding of diabetic retinopathy. In R. P. Singh (Eds.) Managing Diabetic Eye Disease in Clinical Practice. pp. 13-24. Basel: Springer International. DOI: 10.1007/978-3-319-08329-2_2.
Sears, N. c., Sears, J. E. (2014). Pediatric Ocular Trauma. In Pediatric Ocular Disorders. Springer.
Sears, N. C., Lowder, C. Y. (2013). Retinal and choroidal manifestations of viral diseases. In J. F. Arevalo (Eds.) Retinal and Choroidal Manifestations of Selected Systemic Diseases. pp. 139-160. New York: Springer. DOI: 10.1007/978-1-4614-3646-1_8.
Sears, N., Sen, G. C., Stark, G. R. & Chattopadhyay, S. (2011). Caspase-8-mediated cleavage inhibits IRF-3 protein by facilitating its proteasome-mediated degradation. Journal of Biological Chemistry, 286(38), 33037-33044. PMID: 21816816.
Sears, N. C., Machado, A. G., Nagel, S. J., Deogaonkar, M., Stanton-Hicks, M., Rezai, A. R. & Henderson, J. M. (2011). Long-term outcomes of spinal cord stimulation with paddle leads in the treatment of complex regional pain syndrome and failed back surgery syndrome. Neuromodulation : journal of the International Neuromodulation Society, 14(4), 312-8; discussion 318. PMID: 21992424.
Sears, N. C., Sears, J. E. (2011). Oxygen and retinopathy of prematurity. International ophthalmology clinics, 51(1), 17-31. PMID: 21139475.
Yang, J., Huang, J., Dasgupta, M., Sears, N., Miyagi, M., Wang, B., Chance, M. R., Chen, X., Du, Y., Wang, Y., An, L., Wang, Q., Lu, T., Zhang, X., Wang, Z. & Stark, G. R. (2010). Reversible methylation of promoter-bound STAT3 by histone-modifying enzymes. Proceedings of the National Academy of Sciences of the United States of America, 107(50), 21499-504. PMID: 21098664.
Machado, A., Haber, S., Sears, N., Greenberg, B., Malone, D. & Rezai, A. (2009). Functional topography of the ventral striatum and anterior limb of the internal capsule determined by electrical stimulation of awake patients. Clinical neurophysiology : official journal of the International Federation of Clinical Neurophysiology, 120(11), 1941-8. PMID: 19781987.
Kaposi-Novak, P., Libbrecht, L., Woo, H. G., Lee, Y. H., Sears, N. C., Coulouarn, C., Conner, E. A., Factor, V. M., Roskams, T. & Thorgeirsson, S. S. (2009). Central role of c-Myc during malignant conversion in human hepatocarcinogenesis. Cancer research, 69(7), 2775-82. PMID: 19276364.
Smith, R. C., Bodner, C. R., Earl, M. J., Sears, N. C., Hill, N. E., Bishop, L. M., Sizemore, N., Hehemann, D. T., Bohn, J. J. & Protasiewicz, J. D. (2005). Suzuki and Heck coupling reactions mediated by palladium complexes bearing trans-spanning diphosphines. Journal of Organometallic Chemistry, 690(2), 477-481. DOI: 10.1016/j.jorganchem.2004.09.077.