last modified on: Mon, 02/26/2018 - 11:45



see also: Xerostomia (dry mouth) and Salivary Swelling after Irradiation Prevention and Treatment

return to:Thyroid nodule evaluation; Thyroidectomy and Thyroid Lobectomy; Thyroid Cancer (Evaluation and Management)

see also:  Salivary Swelling; Botulinum Toxin Protocols; Case Example I131 Sialadenitis Treated With Sialendoscopy, Steroid Infusion and Sialadenectomy

demonstration of parotid duct dilation with equipment: Salivary Dilator Set with video of use

return to: UCSF Sialendoscopy Nov 4 2015 Stenoses RAI Sjogrens Evidence and Management

Case Example Sialadenitis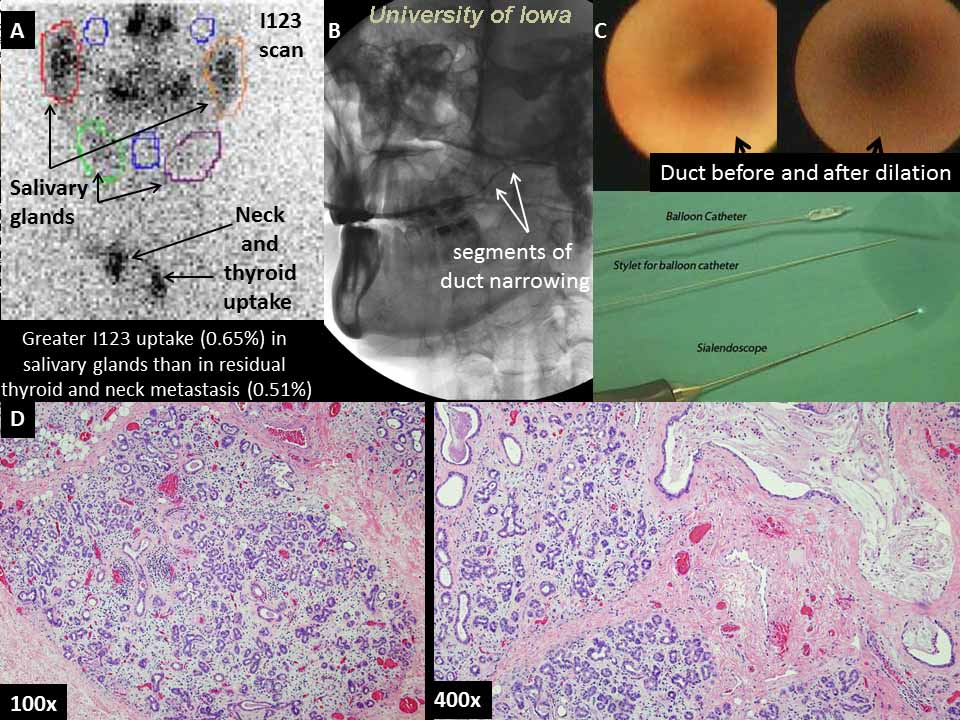 A. I123 scan done one month after total thyroidectomy with salivary uptake (0.65%) greater than thyroid remnant and neck metastasis uptake (0.51%). Note the greater uptake in the parotid glands than the submandibular glands.
B. Left parotid sialogram done 8 months after administration of 187.7 mCi of I131 identifies multiple areas of short segment narrowing and dilation of the main parotid duct.
C.  Bilateral parotid sialendoscopy was done with duct narrowing and debris identified. Successful balloon dilation is identified by pre- and post-dilation imaging with sialendoscopy
D. Histopathology of the resected submandibular gland identified mild lobular inflammation with depletion of acini and acinar atrophy.  (Left image 100x). Ductal dilatation with accompanying attenuation of ductal mucosa along with early squamous metaplasia of the ducts is present.  Ductal concretions are demonstrated as is early periductal fibrosis. (Right image 400x)