last modified on: Thu, 11/01/2018 - 13:12



Injury to the Palate -- General Information              

General:
Injuries to the palate are relatively common in the pediatric population.

A child's propensity to place objects in their mouth, along with their unsteady gait, make trauma to the palate more common in these patients.

Most palatal injuries heal without medical intervention due to the palate's high healing capacity.
The carotid artery, with its close proximity to the lateral peritonsillar and palatal tissues, is susceptible to injury with trauma to the posterior oropharynx.
Neurologic sequelae following palatal injury have been reported in 32 cases due to compression or thrombosis of the ICA and subsequent cerebral ischemia. 
Although infection is rare, deep neck infections are possible with penetrating injuries to the oropharynx and empiric antibiotics should cover oral flora.
 
Presentation:
The mean age for presentation is less than 4 years of age with males being 2x as likely as females.
The most common objects are sticks, pens, pencils, toys, and straws. 

Sticks were implicated in roughly 25% of all cases.

Report of bleeding occurs in 87% at time of injury yet only 3% at time of presentation.  
An otolaryngology consult is requested in 87% of cases (Shoose).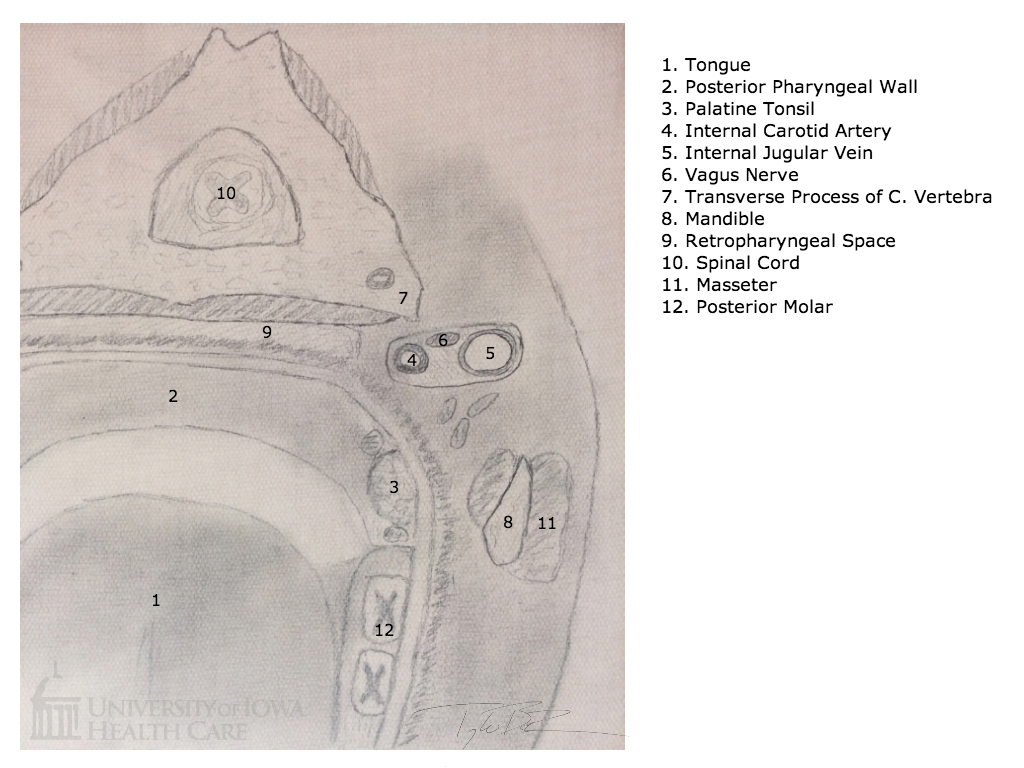 Surgical Repair:
Surgical repair is typically indicated for penetration injuries with risk of foreign body, gross contamination, large avulsions, or hanging palatal flaps.

Some surgeons advocate for surgical intervention if the injury is >2cm

Repair can be accomplished with either primary repair or with rotational flaps.
There are many reports of spontaneous healing of the palate, even with large, gaping perforations. 
 
Antibiotics:
Antibiotics are not typically required due to the oral cavity's general resistance to infection.
Antibiotics may be indicated if there is gross contamination or in large lacerations requiring surgical repair. 

In general, lacerations >1cm may benefit from empiric antibiotics

Empiric antibiotics should cover oral flora. 

Ampicillin-sulbactam for inpatients 
Amoxicillin–clavulanate potassium for outpatients

A prospective randomized trial in 100 patients demonstrated no statistical significance between the group receiving antibiotics and the group without. (Alteri)
Tetanus vaccination status should be assessed with oropharyngeal injuries 
 
Neurologic Complications:
Neurologic complications are exceedingly rare, yet can be devastating if they occur. 
 It is estimated that vascular events occur in <1% of palatal injuries (Hennely). 

 In a retrospective cohort study of 205 children with palatal injuries that did not undergo operative repair:

 None had a stroke
 Only one patient developed an infection

In reported cases, vascular compromise occurred following a "lucid interval" typically between 24 and 48 hours after injury.

 Complications occurring up to 72 hours post-injury have been reported. 

 Parents should be encouraged to seek treatment if their child experiences:

 Decreased level of consciousness
 Unilateral weakness
 Excessive irritability
 Headache or changes in vision
 Neck swelling or bleeding of the mouth
 
Diagnostic Studies:
Much debate exists about the need for imaging following palatal injury
Carotid ultrasound, MRA, and CTA remain the most useful choices in practice, as they are minimally invasive.

 CTA is often the preferred modality due to its high sensitivity and widespread availability

 If carotid involvement is suspected, the "gold standard" is carotid angiography. However, this is often considered overly invasive.
Interventions for Neurologic Complications:
The best interventional method is yet to be determined, however, immediate diagnostic imaging will help guide further therapy.
Medical options include anticoagulation or thrombolysis. 

Anticoagulation should be initiated with confirmed ICA thrombosis before neurologic sequelae occur

These carry the risk for uncontrolled bleeding from injury site or hemorrhagic stroke

Surgical options include embolectomy, grafting, and shunting of the occluded ICA
 
Hospitalization: 
 Indicated for cases requiring potential surgical intervention:

 Foreign body, gross contamination, large avulsions, or hanging palatal flaps

 Indicated for patients with potential airway compromise, <1 year of age, unreliable social circumstances
 Debate exists about hospitalization merely to observe for potential neurologic complications and is generally not indicated.
Suggested Reading:
David A. Randall, MD, and D. Richard Kang, MD. Current management of penetrating injuries of the soft palate. Otolaryngology–Head and Neck Surgery (2006) 135, 356-360
Hennely, K. et al. Incidence of morbidity from penetrating palate trauma. Pediatrics 2010.
Ryan J. Soose. Evaluation and Management of Pediatric Oropharyngeal Trauma. Arch Otolaryngol Head Neck Surg. 2006
Radowski D, McGill TJ, Healy GB, Jones DT: Penetrating trauma of the oropharynx in children. Laryngoscope. 103:991-94, 1993.
Altieri M, Brasch L. Antibiotic prophylaxis in intraoral wounds. Am J Emerg Med 1986;4:507–10