last modified on: Sun, 04/14/2019 - 10:24



Return to Meniere's Disease Overview

see also: BPPV Patient Handout

Dizziness is a common chief complaint seen by otolaryngologists.

One of the most common types of dizziness is vertigo.
Feeling of motion when it is not actually present
Room spinning
Associated with disorders of the inner ear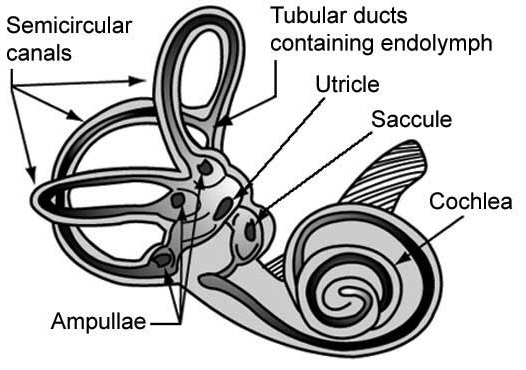 By NASA [Public domain], via Wikimedia Commons
Classification:
Peripheral

Inner Ear/Vestibular System
Benign Paroxysmal Positional Vertigo
Meniere's Disease
Vestibular Neuritis
Superior Canal Wall Dehiscence
Vestibular Migraine

Central

CNS lesion
Tumor (vestibular schwannoma)
Hemorrhage 
Brainstem/cerebellar stroke
Benign Positional Paroxysmal Vertigo (BPPV):
Most common cause of vertigo
Intense vertigo for <60 seconds
Can be triggered by head movements such asrolling over in bed 
Otoconia displaced into semicircular canals
Diagnosis: Dix-Hallpike maneuvers
Examines posterior semicircular canal involvement
Start supine with neck extended
Head turned 45 degrees away from affected ear
Examine for nystagmus, vertigo symptoms
Treatment: Repositioning maneuvers (Epley or Semont)
Meniere's Disease:
Recurrent vertigo episodes lasting 30 minutes to several hours

Commonly associated with light-headedness, nausea and vomiting

Fluctuating sensorineural hearing loss which worsens over time
Low-frequency tinnitus
Aural fullness
Increase in endolymphatic fluid volume and pressure in middle ear 
Diagnosis: clinical findings as described above and audiometric data over time
Treatment:
Non-surgical

Trigger reduction: Reduce salt, caffeine, alcoholol, nicotine
Acute episodes mangaged with antiemetics and vestibular suppressants
Long-Term management includes thiazide diuretics, vestibular therapy and hearing aids
Intratypmanic injections of gentamicin 

Surgical

Endolymphatic shunt
Labyrinthectomy
Vestibular neurectomy
Vestibular Neuritis:
Acute single episode that may last several days
Often precipitated by viral illness
Diagnosis: Abnormal head thrust test
Treatment: Supportive
Superior Canal Wall Dehiscence:
Autophony, Dizziness
Brain fog 
Tinnitus 
Due to thinning/abscence of superior semicircular canal wall of temporal bone
Diagnosis: Thin slice temporal bone CT
Treatment: Surgical repair
Vestibular Migraine: 
Vertigo symptoms associated with headache or aura
Recurrent symptoms with complete resolution between episodes 
CNS Tumor: 
Most commonly vestibular schwannoma 

Benign growth arising from schwann cell on vestibular portion of CN VIII
Hearing loss 
Tinnitus 
Fluctuating vertigo
Facial pain or numbness
Bilateral vestibular schwannoma is the hallmark of Neurofibromatosis Type 2
Diagnosis: MRI scanning with gadolinium contrast 
Treatment:  
Observation

 Since vestibular schwannomas are typically slow growing, observation with follow-up MRI scans every 6 to 12 months may be warranted in carefully selected patients.

Surgery 

Several approaches may be employed to gain tumor access

Radiation 
Brainstem/cerebellar Stroke:
Symptoms typically associated with other neurological deficits

Lateral medullary syndrome (PICA infarction)

dysphagia, slurred speech, Horner's syndrome, ataxia 
contralateral loss of pain and temperature sensation from body
ipsilateral loss of pain and temperature sensation from face

Very rarely vertigo is isolated sign of a lacunar stroke involving only the vestibular system 
Symptoms in central vertigo may not improve, or will take much longer to improve than in peripheral vertigo
Diagnosis:
HINTS exam

The presence of any one of three clinical signs suggests central rather than peripheral vertigo: 

a normal head impulse test 
Direction-changing nystagmus
Skew deviation

Imaging: CT, CT angiography, MRI 
 
Further Reading: 
Dickerson, LM (2010). "Dizziness: a diagnostic approach". American Family Physician. 82 (4): 361–369. PMID 20704166.