John Engelhardt, Ph.D.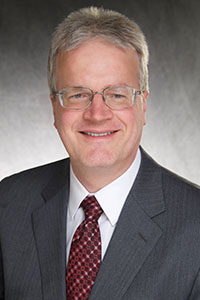 Professor and Head
Anatomy & Cell Biology
Office Room #:1-101-1B1 BSB
Office Phone #:319-335-7744
john-engelhardt@uiowa.edu
Lab Room #:1-111 BSB
Lab Phone #:319-335-9613
Lab Website:
http://www.medicine.uiowa.edu/elab/
Molecular basis of inherited and environmentally induced diseases, and the development of gene therapies
Research in the Engelhardt laboratory focuses on the molecular basis of cystic fibrosis disease pathologies, and on the development of gene therapies for this disorder. Included are four major research areas include the study of: 1) lung molecular and cellular biology as it relates to the pathogenesis and treatment of cystic fibrosis (CF) lung disease, 2) the development of viral vector for gene therapy and gene editing, 3) pathogenesis cystic fibrosis related diabetes, and 4) the study of airway stem cell niches, the regulatory mechanisms that control stem cell proliferation and repair in the airway, and the development of cell-based therapies for CF using stem cells.
PubMed link
Department/Program Affiliations:
Anatomy and Cell Biology
Free Radical and Radiation Biology
Informatics
Internal Medicine
Molecular Medicine
MSTP
Radiation Oncology