Chad Grueter, PhD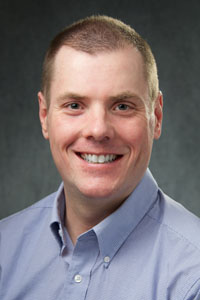 Office: 4332 PBDB
Office Phone: 319-335-3379
Lab Website:
https://www.healthcare.uiowa.edu/labs/grueter/
In the Grueter lab we utilize genetically modified mouse models to study transcriptional regulation primarily in cardiovascular disease.
The basis for the research in my laboratory lies in my strong interest in understanding the transcriptional and posttranscriptional processes that are disrupted in the heart under pathological and physiological stress leading to cardiac remodeling. In our previous studies, we identified a novel transcriptional signaling pathway in the heart that mediates the heart's ability to regulate whole body metabolism. Through a combination of pharmacological and genetic gain- and loss-of-function studies in mice, we found the heart is capable of regulating whole body metabolism through a mechanism that is governed by MED13 and miR-208a. Utilizing a combination of transcriptional and metabolomic analyses including pathway analysis described in this grant, we discovered that the underlying consequence of disrupting this signaling cascade is dramatically altered mitochondria gene expression and function. Recently, we have identified a key role for other transcription co-factors in heart that modulate cardiac transcriptional remodeling and mitochondrial function. We primarily utilize mutant mouse models using proteomic, molecular, bioinformatic and biochemical methods to study the molecular signaling events controlling the transcriptional response to stress.
PubMed link
Department/Program Affiliations:
Internal Medicine
Molecular Medicine