Dawn Quelle, PhD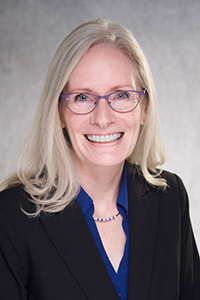 Neuroscience and Pharmacology
Office: 2-570 BSB
Office Phone: 319-353-5749
Lab Website:
https://medicine.uiowa.edu/pharmacology/profile/dawn-quelle
Molecular biology of cancer, tumor suppressor proteins, cell cycle control
We are interested in defining clinically relevant genes and pathways that promote cancer, with the goal of improving cancer diagnosis, prognosis and/or treatment in patients. Molecular, biochemical, and in vivo animal models (mouse and pig) of cancer are used in our investigations as well as translational analyses of human tumor specimens.
Current projects in the laboratory are focused on two novel cancer genes, NIAM (a tumor suppressor) and RABL6A (an oncogene). Specific studies include: 1) Define the biological and functional interaction of NIAM and RGS6 in spontaneous and carcinogen-induced breast cancer; 2) Determine the role of NIAM in Myc-induced B-cell lymphoma using transgenic mouse models; 3) Identify molecular mechanisms and biomarkers of neuroendocrine tumors (NETs), with a focus on how RABL6A drives the proliferation, survival, and angiogenesis of pancreatic NETs. Our discovery that RABL6A is overexpressed in NETs and that it controls major cancer pathways (Rb1, Akt-mTOR and Myc) is prompting us to test novel combination therapies for these challenging cancers; 4) Define the role and importance of RABL6A in Ras signaling and Neurofibromatosis-1 (NF1) using a novel NF1 mutant pig and human tumor samples; 5) Establish and validate large animal models of lung and pancreatic cancer using genetically engineered pigs with mutated p53 and Cre-inducible mutant KRAS. These models will provide unparalleled opportunities for translational advances in earlier detection of tumors (via clinical imaging and biomarkers) and improved anti-cancer strategies (via pre-clinical testing in human cancer surrogates).
PubMed link
Department/Program Affiliations:
Molecular Medicine
MSTP
Neuroscience and Pharmacology
Pathology