Hank Qi, MD, PhD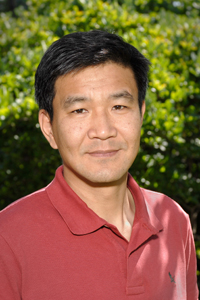 Office: 1-632 BSB
Office Phone: 319-335-3084
Lab Website:
https://qi.lab.uiowa.edu/
Study the epigenetic mechanisms underlying cancer development
The overarching goal in Qi lab is to identify novel druggale epigenetic factors, which play critical roles in cancer development. With biochemical approaches and mouse models, we aim to translate the basic science to cancer therapy. Specifically, we focus on the oncogenic roles of histone demethylases in the tumorigenesis and progression of breast cancer and prostate cancer. Histone demethylases can be inhibited by small molecules, hence, inhibition of these enzymes can either enhance the effects of the currently used drugs or lead to novel therapeutics in drug resistant cancers.
Qi Lab is currently investigating how histone demethylase PHF8 (PhD finger protein 8) contributes to cancer cell proliferation, metastasis, and drug resistance. In the context of breast cancer, we focus on the mechanisms whereby PHF8 regulates epithelial to mesenchymal transition (EMT), which is considered to be a mechanism underlying cancer cell metastasis. For the prostate cancer approaches, we focus on how PHF8 contributes to the development of castration resistance of prostate cancer, which remains a major challenge in the poor prognosis of prostate cancer patients. Technically, we employ cancer cell lines and mouse models to tackle the oncogenic functions of PHF8; state-of-art technologies such genome-wide RNA-sequencing (RNA-seq), ChIP-Seq (Chromatin immunoprecipitation followed by deep sequencing) and bioinformatic analysis to uncover the transcriptional functions of PHF8 in key signaling pathways in cancer progression.
PubMed link
Department/Program Affiliations:
Anatomy and Cell Biology
Molecular Medicine