John Fingert, MD, PhD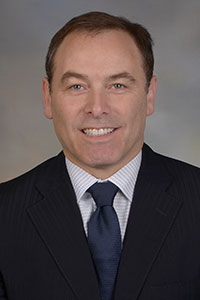 Ophthalmology and Visual Sciences
Office: 3111 MERF
Office Phone: 319-335-7508
Lab Website:
www.glaucoma-genetics-lab.org
My lab studies the molecular genetic basis of inherited eye diseases.
I am a board-certified ophthalmologist with fellowship training in glaucoma and I have a Ph.D. in ophthalmic genetics. My training and experience has provided me with broad clinical and laboratory expertise to investigate the genetic basis of optic nerve disease. My early research resulted in the detection of the first glaucoma gene, myocilin, and more recently my laboratory has discovered one of two known normal tension glaucoma genes, TBK1. My laboratory is currently investigating the mechanisms by which defects in genes in the autophagy pathway (TBK1, OPTN, and others) lead to normal tension glaucoma using transgenic mice, induced pluripotent stem cells, and other patient-based studies. Other major projects include genetic studies of pigmentary glaucoma, exfoliative glaucoma, dominant optic atrophy, and studies of the genetic basis of quantitative features of glaucoma (eye pressure, corneal thickness, and optic nerve cupping). These projects are part of an overall mission to investigate the genetic basis of optic nerve disease and develop sight-saving therapies for this common group of blinding diseases.
PubMed link
Department/Program Affiliations:
Genetics
Molecular Medicine
Ophthalmology and Visual Sciences