Kamal Rahmouni, PhD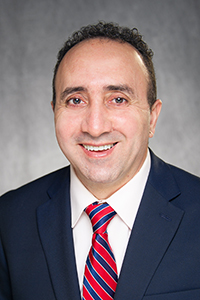 Neuroscience and Pharmacology
Office: 2-248 BSB
Office Phone: 319-353-5256
Lab Website:
https://medicine.uiowa.edu/pharmacology/profile/kamal-rahmouni
Molecular and cellular determinants of metabolic and cardiovascular regulation in health and disease
The overall goal of my research is to understand the neurobiology of metabolism, energy homeostasis and cardiovascular function and related disorders such as obesity, diabetes and hypertension. This goal includes: 1) the elucidation of the molecular mechanisms and neuroanatomical pathways in the central nervous system that control energy homeostasis and autonomic cardiovascular function, and 2) the identification of the factors and molecular events that lead to energy imbalance and cardiovascular diseases. Using basic cellular mechanisms, genetic models and sophisticated physiological techniques, my lab have made major contributions to understanding the mechanisms of metabolic alterations, hypertension, and subsequent target-organ damage. Specifically, we have: 1) delineated the molecular and neural pathways that control metabolism, sympathetic nervous system and arterial pressure; 2) played a critical role in the discovery of the pathophysiological mechanisms of obesity-associated hypertension and 3) dissected the mechanisms involved in the metabolic and cardiovascular disorders associated with a human obesity syndrome.
PubMed link
Department/Program Affiliations:
Internal Medicine
Molecular Medicine
MSTP
Neuroscience
Neuroscience and Pharmacology