Ronald Weigel, MD, PhD, MBA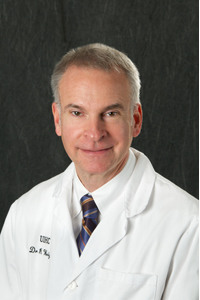 EA Crowell Jr. Professor and Chair
Office: 1509 JCP
Office Phone: 319-353-7474
Lab Website:
https://www.medicine.uiowa.edu/surgery/profile/ronald-weigel
We study mechanisms of transcriptional regulation in cancer with a particular focus in breast cancer.
The Weigel laboratory has had a long-standing interest in determining mechanisms of hormone response in breast cancer. Our work has identified transcriptional mechanisms that regulate the expression of estrogen receptor-alpha in breast carcinomas. Other areas of investigation have sought to identify genes that are related to hormone response and additional mechanisms of gene regulation that establish clinically relevant breast cancer phenotypes. Current projects focus on several areas of gene regulation. One main area of investigation seeks to determine the role of the TFAP2C transcription factor in mammary development, oncogenesis and hormone response. Additional work has focused on the interaction between TFAP2C and other luminal transcription factors including FOXA1 and ERα. Loss of TFAP2C induces EMT in luminal breast cancer and expands the cancer stem cell (CSC) population. Transcriptional regulation by TFAP2C involves several key target genes including RET and EGFR. These basic science investigations are complemented by clinical trials examining the role of drugs that target RET and EGFR. We have recently identified that sumoylation of TFAP2A alters its transcriptional activity; SUMO-unconjugated TFAP2A acquires TFAP2C-like activity and has the ability to repress CD44 and MMP14, reducing invasiveness and eliminating the CSC population. We have ongoing investigations to elucidate the role of SUMO inhibitors to repress the CSC phenotype.
PubMed link
Department/Program Affiliations:
Anatomy and Cell Biology
Biochemistry
Molecular Medicine
Molecular Physiology and Biophysics
Surgery