Shujie Yang, PhD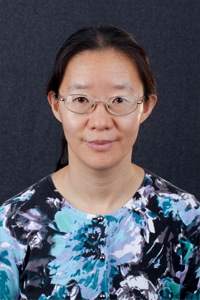 Office: 5202 MERF
Office Phone: 319-335-0473
Lab Website:
https://yangs.lab.uiowa.edu/research-focus
Molecular mechanism or therapy for endometrial cancer
The focus of my research is to develop evidence-based therapeutic interventions to improve survival for endometrial cancer patients as well as other hormone-driven cancer patients.
Project 1: Restoring Progestin Sensitivity in Endometrioid Endometrial Cancer. The objective of this project is to identify the molecular mechanisms driving the downregulation of the progesterone receptor (PR) in endometrial cancer patients and identify novel strategies to further enhance the effectiveness of progestin therapy. My group has led efforts to understand the mechanisms underlying loss of PR in endometrial tumors. For example, we identified the significant improvement in progestin effectiveness when a histone deacetylase inhibitor (HDACi) is combined with progestin therapy, leading to the approval of a new NIH NCTN trial, NRG-GY011. To maximize clinical interventions, we have now identified novel small molecule PR inducers as well as additional PR suppressors that have the potential to more clearly define the multiple mechanisms of PR inhibition in endometrial cancer, setting the stage for new therapeutic opportunities.
Project 2: Novel drug combinations to enhance hormone therapy. We will validate new PR inducers and to test it in vitro and in vivo assays for its effect on increasing PR expression and inhibit endometrial tumor growth.
Project 3: Investigating epigenetic therapies in advanced, persistent or recurrent endometrial cancer. Progestin therapy has lowest response rate for this type of endometrial cancer. Our previous data demonstrated that PR expression can be restored by hypomethylating agent, 5-aza-decitabine. Combination of HDACi with hypomethylation agent will restore PR expression dramatically. We will apply this treatment strategy in advanced endometrial cancer.
Other new projects include: 1) Determine anti-tumor immune response in MPA+HDACi treatment; 2) To determine the mechanism of PR as a negative transcriptional regulator for oncogene Myc in endometrial cancer; 3) To extend molecularly enhanced progestin therapy to other cancer types.
PubMed link
Department/Program Affiliations:
Pathology