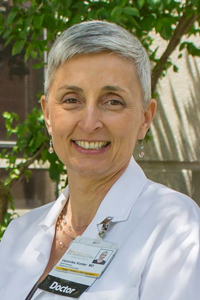 Clinical Associate Professor of Obstetrics and Gynecology - General Obstetrics and Gynecology
Contact Information
Primary Office
51221 PFP
Iowa City, IA 52242
318-384-8640
Education
BA, Zoology, special honors, University of Iowa, Iowa City,
MD, Medical School, University of Iowa College of Medicine, Iowa City, IA

Resident, Obstetrics and Gynecology, University of Illinois, Chicago, IL
Licensure and Certifications
Credentialed as a North American Menopause Society Menopause Practitioner
Board Certification - American Board of Obstetrics and Gynecology
Medical Licensure - Iowa State Board of Medical Examiners
Research Summary
Menopausal Health; Lesbian Health
Publications
Kolder, V. E., Julian, N. Y. (2011). Teaching about sexual minorities: an Iowa experience. Proc Obstet Gynecol (Available from: http://ir.uiowa.edu/pog/vol1/iss1/10), 1(1), 10.
Julian, N. Y., Kolder, V. E. (2009). Counselors Needed STAT. Association of Lesbian, Gay, Bisexual, and Transgender Issues in Counseling News, 34(1), 9-10.
Frye, A. (1995). 1st edition. Labrys Press. 1995. In Holistic Midwifery: A Comprehensive Textbook for Midwives in Homebirth Practice, Volume I, Care During Pregnancy. (Vols. 1). (1) Labrys Press.
Kolder, V. E., Hamman, A. (1989). Chapter 4: Gynecological Health. In , C. J. Leppa (Eds.) Women's Health Perspectives: An Annual Review . pp. 47-80. Phoenix, AZ: Oryx Press.
Kolder, V. E., Gallagher, J. & Parsons, M. T. (1987). Court-ordered obstetrical interventions. The New England journal of medicine, 316(19), 1192-6. PMID: 3574370.