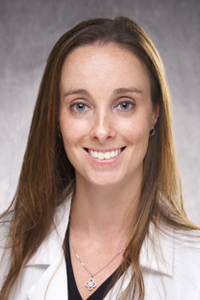 Clinical Assistant Professor of Orthopedics and Rehabilitation

Contact Information
Primary Office: 01078 JPP
200 Hawkins DR
Iowa City, IA 52242
319-353-7091

Education
BA, Bachelor of arts in Brain and Cognitive Sciences, University of Rochester
MD, SUNY Stony Brook School of Medicine

Resident, SUNY Stony Brook Orthopaedic Surgery Residency
Resident, University of Rochester Orthopaedic Surgery Residency
Fellow, Hand and Upper Limb, University of Massachusetts Hand Surgery Fellowship

Licensure and Certifications
American Board of Orthopaedic Surgery

Publications
Compton, J., Owens, J., Caldwell, L. & Day, M. (In Press). Systematic Review of Tendon and Nerve Transfers for Restoration of Wrist Extension in Isolated Traumatic Radial Nerve Palsy. JAAOS Global Research & Reviews.
Tofte, J., Caldwell, L. (2017). Detection of Retained Foreign Objects in Upper Extremity Surgical Procedures with Incisions of Two Centimeters or Smaller. Iowa Orthopedic Journal, 37, 189-192. PMID: 28852356.
Caldwell, L. S., Chan, C. M., Sanders, J. S. & Gorczyca, J. T. (2017). Detection of Femoral Neck Fractures in Pediatric Patients with Femoral Shaft Fractures. Journal of Pediatric Orthopaedics, 37(3), 164-167. PMID: 27261972.
Caldwell, L. S., Cooper, A. R. & Elfar, J. C. (2014). A novel arthroscopic inside-out repair technique for PASTA lesions. Arthroscopic Techniques, 3(5), 565-570. PMID: 25473607.