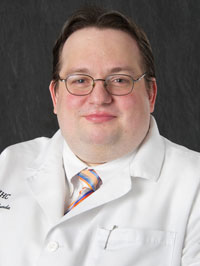 Yusuf Menda, MD
Director
---
The nuclear medicine division offers the full range of diagnostic and therapeutic procedures found only at tertiary level medical facilities. Special diagnostic procedures include:
myocardial perfusion imaging with attenuation correction
sentinel lymph node imaging performed using a SPECT/CT camera to provide optimal anatomic location
labeled white cell and platelet imaging
ProstaScint prostate cancer
 Octreoscan neuroendocrine imaging
Cancer imaging procedures are performed using a SPECT/CT camera which provides attenuation correction and physiologic nuclear medicine imaging fused with CT data for optimal tumor localization. Therapeutic procedures include Sr-90 or Sm-153 EDTMP palliative therapy for bone pain due to metastatic cancer, Y-90 Zevalin or I-131 Bexxar for treatment of non-Hodgkin's lymphoma, Y-90 SIRspheres radiotherapy for liver cancer, radioiodine therapy for overactive thyroid disease, and radioiodine therapy for thyroid cancer including dosimetric methodology applied to provide high dose radioiodine therapy for metastatic thyroid cancer.

The PET Center is equipped with a modern cyclotron and extensive radiochemistry laboratories that routinely provide F-18 FDG and O-15 water radiopharmaceuticals for diagnostic imaging procedures. PET imaging studies are performed on the most advanced high sensitivity/high resolution PET/CT scanners. Diagnostic PET procedures include brain perfusion and metabolic imaging, myocardial perfusion and metabolic imaging, and tumor imaging using the PET/CT scanner to provide attenuation corrected tumor physiologic data fused with diagnostic quality CT data for optimal tumor localization.

Nuclear Medicine/ PET Center staff are involved in a range of research activities including:
anti-tumor radiolabeled proteins for diagnosis and treatment of specific cancers
radio-immunotherapy for treatment of non-Hodgkin's lymphoma
optimization of detection of parathyroid adenomas
diagnosis of osteomyelitis
PET brain function and dementia studies
PET/CT prostate cancer imaging
PET/CT imaging to monitor the effect of cancer chemotherapy and radiation therapy protocols development of new PET radiopharmaceuticals for use in diagnostic cancer imaging.