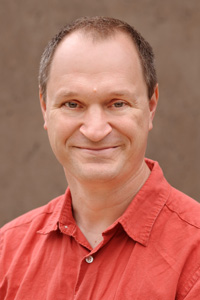 Associate Professor of Biochemistry
Contact Information
Office
4-430 BSB
Iowa City, IA 52242
319-384-1820
Lab
--
Education
BA, Chemistry, Oberlin College
MS, Toxicology, American University
PhD, Oncological Sciences, University of Utah

Postdoctoral Fellow, Cellular & Molecular Pharmacology, University of California, San Francisco
Education/Training Program Affiliations
Department of Biochemistry PhD, Interdisciplinary Graduate Program in Molecular Medicine, Medical Scientist Training Program
Center, Program and Institute Affiliations
Holden Comprehensive Cancer Center
Research Summary
Proteins do not typically emerge from ribosomes ready to function. In fact, most proteins require precise signals to direct where, when, and how well to perform multiple functions. In my lab we study the structural and biophysical basis for how the glucocorticoid receptor (GR) responds to cellular signals. GR is a steroid activated transcription factor that is expressed in every tissue of the body. In each of these tissues GR performs a distinct function by binding different regions of the genome to affect regulation of gene programs. We are interested in understanding how signals change the conformation of GR to direct binding to specific genomic sites and expression of key genes. We have learned that once bound, the DNA sequence has a profound impact on GR structure and function, and we are pursuing how this influences recruitment of the correct complement of transcription factors to faithfully regulate genes. We study GR in particular because its central role in the treatment of childhood acute lymphoblastic leukemia (ALL). ALL is the most common childhood cancer and is highly treatable, with 90% of patients cured by standard chemotherapy. For the remaining 10%, the prognosis is grim. Surprisingly, treatment response is best predicted by whether ALL cells die when treated ex vivo with a single component of chemotherapy – glucocorticoids, suggesting a central role for GR in ALL treatment efficacy. Since both sensitive and resistant patients have normal levels of wild type GR, it is our hypothesis that important signaling pathways have been disrupted in resistant patients that affect the ability of GR to efficiently kill ALL cells. The long-term goals of my lab are to develop a deep understanding of how GR is fine-tuned by signals so that we can rationally develop compounds that will potently and specifically drive the genes that kill leukemias. Our immediate goals are to identify: all signals that have an impact on glucocorticoid induced cell death; GR regulated genes that induce cell death; and GR binding sites associated with these genes. In addition, we are elucidating how both drugs and DNA sequence change the structure of GR at these crucial genes.
Publications
Sanchez, J. C., Zhang, L., Evoli, S., Schnicker, N. J., Nunez-Hernandez, M., Yu, L., Wereszcynski, J., Pufall, M. A. & Musselman, C. A. (2020). The molecular basis of selective DNA binding by the BRG1 AT-hook and bromodomain. Biochim Biophys Acta Gene Regul Mech., 1863(8), 194566. PMID: 32376391.
Pal, S., Tew, B., Lim, M., Stankavich, B., He, M., Pufall, M., Hu, W., Chen, Y. & Jones, J. (2019). Mechanistic Investigation of the Androgen Receptor DNA-Binding Domain Inhibitor Pyrvinium. ACS Omega, 4(2), 2472-2481.
Poulard, C., Kim, H., Kruth, K., Gagnieux, C., Gerke, D., Bhojwani, D., Kim, Y., Kampmann, M., Stallcup, M. & Pufall, M. (2019). Relapse-associated AURKB blunts the glucocorticoid sensitivity of B cell acute lymphoblastic leukemia. Proc Natl Acadm Sci USA.
Sasse, S., Gruca, M., Allen, M., Kadiyala, V., Song, T., Gally, F., Gupta, A., Pufall, M., Dowell, R. & Gerber, A. (2019). Nascent transcript analysis of glucocorticoid crosstalk with TNF defines primary and cooperative inflammatory repression. Genome Res, 29(11), 1753-1765. PMID: 31519741.
Pufall, M., Wilson, A. (In Press). An idea to explore: A collaboration and cross training in an extended classroom-based undergraduate research experience between primarily undergraduate and research-intensive institutions. Biochemistry and Molecular Biology Education.
Guo, A., Wang, Y., Chen, B., Wang, Y., Zhang, L., Chen, C., Hall, D., Zhan, X., Weiss, R., Au, K., Zhan, F., Musselman, C., Pufall, M., Hong, J., Anderson, M., Grueter, C. & Song, L. (2018). The E-C coupling structure protein junctophilin-2 encodes a stress-adaptive transcription regulator. Science.
Poulard, C., Baulu, E., Lee, B., Pufall, M. & Stallcup, M. (2018). Increasing G9a automethylation sensitizes B acute lymphoblastic leukemia cells to glucocorticoid-induced death. Cell Death Dis., 9(10). DOI: 10.1038/s41419-018-1110-z.
Rollins, D. A., Kharlyngdoh, J. B., Coppo, M., Tharmalingam, B., Mimouna, S., Guo, Z., Sacta, M. A., Pufall, M. A., Fisher, R. P., Hu, X., Chinenov, Y. & Rogatsky, I. (2017). Glucocorticoid-induced phosphorylation by CDK9 modulates the coactivator functions of transcriptional cofactor GRIP1 in macrophages. Nature communications, 8(1), 1739. PMID: 29170386.
Pufall, M. A. (2017). Defining Native Enhancer Function. Cell systems, 5(4), 310-312. PMID: 29073368.
Michaelson, J., Shin, M., Koh, J., Brueggeman, L., Zhang, A., Katzman, A., McDaniel, L., Fang, M., Pufall, M. & Pieper, A. (2017). Neuronal PAS domain proteins 1 and 3 are master regulators of neuropsychiatric risk genes. Biol Psychiatry, 1(82(3)), 213-223. PMID: 28499489.
Andrejeva, G., Rathmell, J. (2017). Similarities and Distinctions of Cancer and Immune Metabolism in Inflammation and Tumors. Cell Metabolism 26, no. 1, 49-70. DOI: 10.1016/j.cmet.2017.06.004.
Kampmann, M. (2017). Elucidating Drug Targets and Mechanisms of Action by Genetic Screens in Mammalian Cells. Chemical Communications 53, 7162-7167. DOI: 10.1039/C7CC02349A.
Kruth, K. A., Fang, M., Shelton, D. N., Abu-Halawa, O., Mahling, R., Yang, H., Weissman, J. S., Loh, M. L., Müschen, M., Tasian, S. K., Bassik, M. C., Kampmann, M. & Pufall, M. A. (2017). Suppression of B-cell development genes is key to glucocorticoid efficacy in treatment of acute lymphoblastic leukemia. Blood, 129(22), 3000-3008. PMID: 28424165.
Chan, L., Chen, Z., Braas, D., Lee, J., Xiao, G., Geng, H., Cosgun, K., Hurtz, C., Shojaee, S., Cazzaniga, V., Schjerven, H., Ernst, T., Hochhaus, A., Kornblau, S., Konopleva, M., Pufall, M., Cazzaniga, G., Liu, G., Milne, T., Koeffler, H., Ross, T., Sanchez-Garcia, I., Borkhardt, A., Yamamoto, K., Dickins, R., Graeber, T. & Muschen, M. (2017). Metabolic gatekeeper function of B-lymphoid transcription factors. Nature, 23(542(7642)), 479-483. PMID: 28192788.
Zhang, L., Martini, G. D., Rube, H. T., FitzPatrick, V. D., Kribelbauer, J. F., Houtman, J. C., Bussemaker, H. J. & Pufall, M. (2017). SelexGLM distinguishes androgen and glucocorticoid receptor DNA-binding specificities over a large footprint. Genome Res..
Sasse, S. K., Zuo, Z., Kadiyala, V., Zhang, L., Pufall, M. A., Jain, M. K., Phang, T. L., Stormo, G. D. & Gerber, A. N. (2015). Response Element Composition Governs Correlations between Binding Site Affinity and Transcription in Glucocorticoid Receptor Feed-forward Loops. The Journal of biological chemistry, 290(32), 19756-69. PMID: 26088140.
Pufall, M. A. (2015). Glucocorticoids and Cancer. Advances in experimental medicine and biology, 872, 315-33. PMID: 26216001.
Fontana, M. F., Baccarella, A., Pancholi, N., Pufall, M. A., Herbert, D. R. & Kim, C. C. (2015). JUNB is a key transcriptional modulator of macrophage activation. Journal of immunology (Baltimore, Md. : 1950), 194(1), 177-86. PMID: 25472994.
Slattery, M., Zhou, T., Yang, L., Dantas Machado, A., Gordan, R. & Rohs, R. (2014). Absence of a Simple Code: How Transcription Factors Read the Genome. Trends in Biochemical Sciences 39, no. 9, 381-399. DOI: 10.1016/j.tibs.2014.07.002.
Bongers, K., Fox, D., Kunkel, S., Stebounova, L., Murry, D., Pufall, M., Ebert, S., Dyle, M., Bullard, S., Dierdorff, J. & Adams, C. (2014). Spermine Oxidase Maintains Basal Skeletal Muscle Gene Expression and Fiber Size, and Is Strongly Repressed by Conditions that Cause Skeletal Muscle Atrophy. Am J Physiol Endocrinol Metab. PMID: 25406264.
Thomas-Chollier, M., Watson, L. C., Cooper, S. B., Pufall, M. A., Liu, J. S., Borzym, K., Vingron, M., Yamamoto, K. R. & Meijsing, S. H. (2013). A naturally occurring insertion of a single amino acid rewires transcriptional regulation by glucocorticoid receptor isoforms. Proc Natl Acad Sci USA, 110(44), 17826-31. PMID: 24127590.
Pufall, M. A., Kaplan, C. D. (2013). Mechanisms of eukaryotic transcription. Genome Biol, 14(9), 311. PMID: 24079829.
Watson, L. C., Kuchenbecker, K. M., Schiller, B. J., Gross, J. D., Pufall, M. A. & Yamamoto, K. R. (2013). The glucocorticoid receptor dimer interface allosterically transmits sequence-specific DNA signals. Nature Structural & Molecular Biology, 20(7), 876-83. PMID: 23728292.
Serafimova, I. M., Pufall, M. A., Krishnan, S., Duda, K., Cohen, M. S., Maglathlin, R. L., McFarland, J. M., Miller, R. M., Frödin, M. & Taunton, J. (2012). Reversible covalent targeting of noncatalytic cysteines with chemically tuned electrophiles. Nature Chemical Biology, 8(5), 471-6. PMID: 22466421.
Shipp, L. E., Lee, J. V., Yu, C. Y., Pufall, M., Zhang, P., Scott, D. K. & Wang, J. C. (2010). Transcriptional regulation of human dual specificity protein phosphatase 1 (DUSP1) gene by glucocorticoids. PloS One, 5(10), e13754. PMID: 21060794.
Meijsing, S. H., Pufall, M. A., So, A. Y., Bates, D. L., Chen, L. & Yamamoto, K. R. (2009). DNA binding site sequence directs glucocorticoid receptor structure and activity. Science (New York, N.Y.), 324(5925), 407-10. PMID: 19372434.
Lee, G. M., Pufall, M. A., Meeker, C. A., Kang, H. S., Graves, B. J. & McIntosh, L. P. (2008). The affinity of Ets-1 for DNA is modulated by phosphorylation through transient interactions of an unstructured region. Journal of Molecular Biology, 382(4), 1014-30. PMID: 18692067.
Pufall, M. A., Lee, G. M., Nelson, M. L., Kang, H. S., Velyvis, A., Kay, L. E., McIntosh, L. P. & Graves, B. J. (2005). Variable control of Ets-1 DNA binding by multiple phosphates in an unstructured region. Science (New York, N.Y.), 309(5731), 142-5. PMID: 15994560.
Lee, G. M., Donaldson, L. W., Pufall, M. A., Kang, H. S., Pot, I., Graves, B. J. & McIntosh, L. P. (2005). The structural and dynamic basis of Ets-1 DNA binding autoinhibition. The Journal of Biological Chemistry, 280(8), 7088-99. PMID: 15591056.
Garvie, C. W., Pufall, M. A., Graves, B. J. & Wolberger, C. (2002). Structural analysis of the autoinhibition of Ets-1 and its role in protein partnerships. The Journal of Biological Chemistry, 277(47), 45529-36. PMID: 12221090.
Pufall, M. A., Graves, B. J. (2002). Autoinhibitory domains: modular effectors of cellular regulation. Annual Review of Cell and Developmental Biology, 18, 421-62. PMID: 12142282.
Pufall, M. A., Graves, B. J. (2002). Ets-1 flips for new partner Pax-5. Structure (London, England : 1993), 10(1), 4-Nov. PMID: 11796106.