2017 Distinguished Alumni Award Recipients
Date: Monday, February 20, 2017
The 2017 Distinguished Alumni Awards will be presented during a private ceremony on Thursday, June 8, at Hancher Auditorium. Categories include achievement, service, early career achievement, and friendship.
Achievement
Thomas Boat
​66MS, 66MD - pediatrics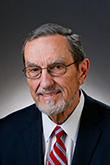 Dr. Thomas Boat is a born leader who has worked to define the pathophysiology of airway dysfunction, develop effective therapies for childhood chronic lung disease, and improve research, training, and clinical care in the field of pediatrics. His work has shined a light on issues such as pediatric behavioral health and the wellness needs of young cystic fibrosis patients and their families. Throughout his career, Dr. Boat has held numerous leadership roles at health care organizations in Cincinnati, Chapel Hill, and Cleveland and has been a life-long champion of safe, nurturing family environments as important early contributors to lifetime health for children. Most recently, he served as professor of pediatrics and Dean at the University of Cincinnati College of Medicine and Chief Executive Officer of the University of Cincinnati Physicians.
R. Ariel Gomez
83F- pediatric nephrology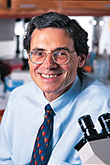 A tenacious investigator whose research has been continuously supported by the National Institutes of Health since 1988, Dr. R. Ariel Gomez continues to make fundamental contributions to the understanding of the origin, identity, and fate of kidney renin cells. He showed that renin cells are progenitor cells that appear early in life and are necessary for kidney development. Descendants from those progenitors retain the memory to make renin once again when well-being is threatened. Dr. Gomez identified the genes and epigenetic events that control the identity and plasticity of renin cells. Most recently, his group discovered a novel renin progenitor in the bone marrow, a primitive lymphocyte that links the immune and endocrine systems and it is the cell of origin of a highly penetrant type of leukemia.  Through his research, Dr. Gomez hopes to develop treatments for hypertension and kidney and vascular diseases. He began his career in the Pediatrics Department at The University of Virginia School of Medicine in 1984 and held multiple leadership positions at the school before returning to full time research in 2008.
Lewis Roberts
92PhD - physiology and biophysics
Dr. Lewis Roberts is an internationally recognized expert in liver cancer whose contributions have benefited medicine's understanding of the often fatal disease. A native of Ghana, he generously volunteers his time in Africa and Asia to mentor future health care professionals, expand global health awareness, and organize medical education opportunities. In these countries, he also arranges practical skills workshops on basic and advanced life support, neonatal resuscitation, management of obstetrical emergencies, endoscopy, minimally-invasive surgery, and the treatment and care of persons with liver disease and liver cancer. Dr. Roberts' laboratory at the Mayo Clinic focuses on understanding the mechanisms by which liver and biliary cancers develop, grow, and spread, with the long-term goals of improving cancer diagnosis and providing physicians with targeted and personalized treatments with minimal side effects for their patients. Dr. Roberts is an excellent mentor to graduate and medical students, research fellows and residents, and in particular to under-represented minority students. In recognition of his sustained efforts, Dr. Roberts has been honored with the highest academic honor bestowed at Mayo Clinic, as well as with multiple accolades for his humanitarian activities.
Service
Steven Craig
76BS, 79MD - internal medicine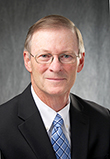 With a passion for medical education and an unwavering commitment to health care administration, Dr. Steven Craig is leading the charge to teach the next generation of health care professionals in the state of Iowa.  As Executive Director of the Des Moines Area Medical Education Consortium—a non-profit corporation with exclusive academic affiliation with the University of Iowa—he coordinates the partnership between the University of Iowa's undergraduate, graduate, and residency programs and five Des Moines health care member institutions. Dr. Craig also serves as an Assistant Dean for Student Affairs and Curriculum at the university's regional campus in Des Moines. In these leadership roles, he continues to shape the face of medical education in today's ever changing health care landscape and provide exciting educational opportunities Iowa's students.
Willie Parker
90MD - obstetrics and gynecology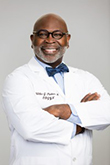 Dr. Willie Parker is the epitome of a compassionate and judgment-free health care provider. As a respected obstetrician and gynecologist, he became increasingly concerned about restricted access to services and reproductive health disparities for underprivileged women across the country. Uncomfortable turning away patients who needed help, he began to advocate for abortion rights in 2009 and this cause has since become the focus of his career. Dr. Parker is the current Chair for Physicians for Reproductive Health, sits on the board of the Religious Coalition for Reproductive Choice, and has joined the Center for Reproductive Rights to lobby for the Women's Health Protection Act. He has testified on Capitol Hill articulating a respect for—and trust in— women that he felt was noticeably lacking. The groundbreaking bill aims to prohibit state laws that restrict access to abortion services for women. His ongoing fight for reproductive rights has also been featured in a prominent article in the New York Times. His forthcoming book, Life's Work, chronicling his journey and raising reproductive justice issues will be published in April 2017.
Early Career Achievement
Katie Imborek​
08MD, 11R - family medicine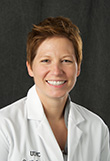 In under a decade, Dr. Katie Imborek has been nationally recognized for pioneering work that has improved the lives and care of LGBTQ (Lesbian, Gay, Bisexual, Transgender, Queer, and Questioning) individuals. As a medical student at Iowa, she founded MEDIQS (MED Iowa's Queer Students) to raise awareness of LQBTQ health care issues and provide a support network for students. Now a clinical assistant professor of family medicine, Dr. Imborek co-developed the university's highly successful, comprehensive care LGBTQ Clinic at Iowa River Landing, which she continues to co-direct. In honor of the tremendous impact she has made throughout eastern Iowa, Dr. Imborek has received numerous teaching awards and was recognized as one of the Corridor Business Journal's Forty Under 40 Awardees. Currently, Dr. Imborek is championing a hospital wide policy outlining equal access to care for transgender patients, a Safe Zone project for health care providers, and is working with Iowa law students in the Rainbow Health Clinic to support the needs of transgender-identified individuals.
Friendship
Joseph Walder, MD, PhD
A passionate researcher, visionary, entrepreneur, and philanthropist, Dr. Joseph Walder continues to make an indelible mark on the University of Iowa and the world through exciting breakthroughs in biology and medicine.  In 1987, Dr. Walder founded Integrated DNA Technologies, Inc. (IDT), with manufacturing headquarters located in Coralville, Iowa. Today, IDT is a global company with sites in California, Illinois, Belgium, Singapore, Australia, Japan and Korea. IDT is the world leader in delivering genomic solutions for the life sciences market in the areas of academic research, medical diagnostics, biotechnology, agriculture, and pharmaceutical development. IDT has developed proprietary technologies for genomics applications such as next generation sequencing, CRISPR-Cas9 genome editing, qPCR, and RNA interference. Through its GMP services, IDT manufactures products used in diagnostic tests for cancer and most inherited and infectious diseases. IDT's products enable scientists to discover new drugs and develop new treatment models tailored to the specific needs of individual patients. In 2013, Dr. Walder and his company chose to generously give back to the university through a game-changing $1 million gift to UI Health Care that will create a space in the neonatal intensive care unit where parents can bond with their older children while their premature newborns are in the hospital.