Daniel Bettis, MD - Haiti
Date: Friday, April 6, 2018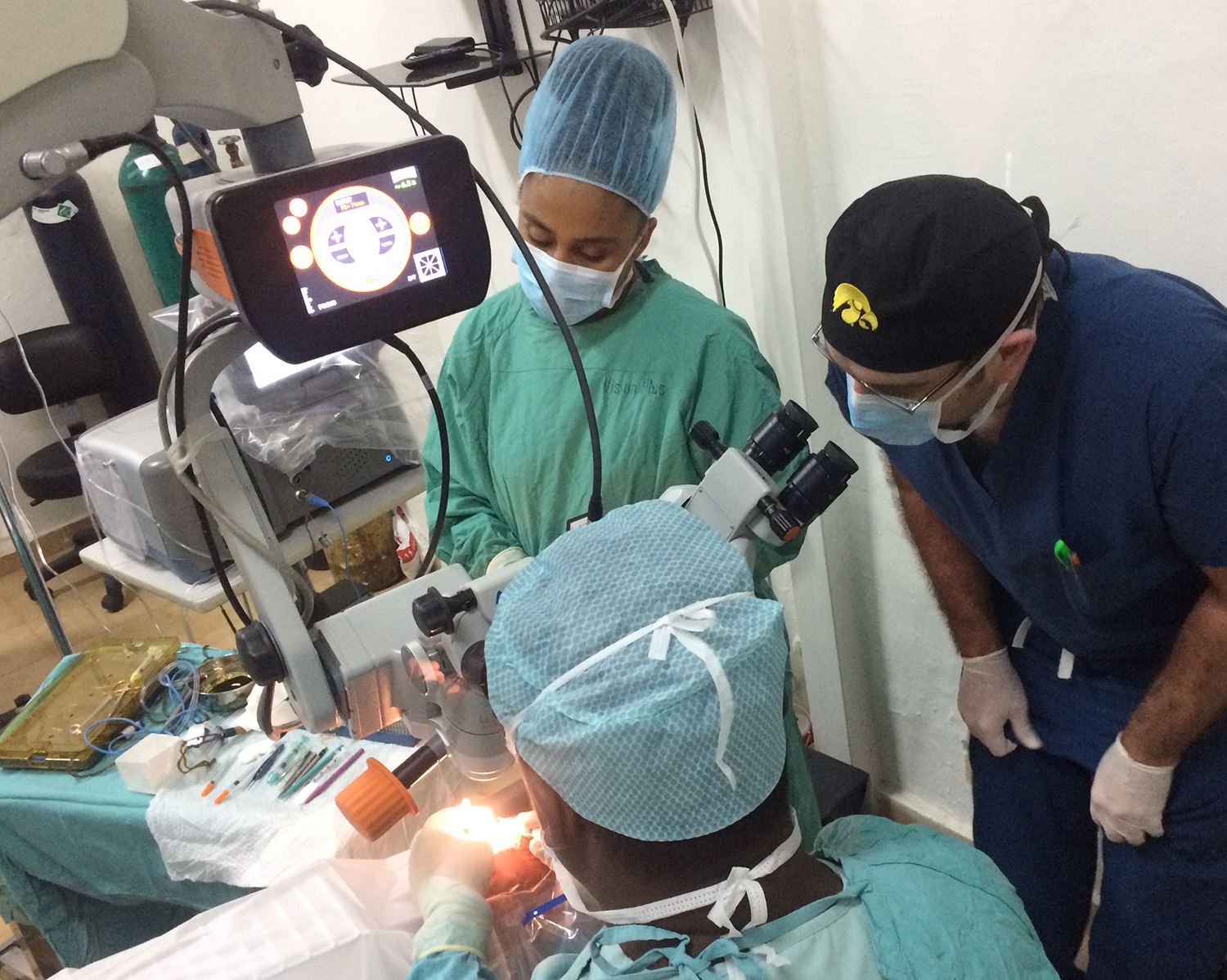 'International outreach experiences enrich my practice' — Daniel Bettis, MD
Glaucoma and cataract surgeon Daniel Bettis, MD, works with eye-care providers in several countries—mostly Haiti, but also Nepal, Mexico, and Honduras—in an effort to "prevent and eradicate unnecessary blindness through a perpetual, sustainable model."
"This includes focusing on transfer of surgical skills, best practices of patient care, and advice regarding clinical and surgical operations and optimization," he says. "The idea is for these local eye-care providers to train more providers in their own countries, enabling them to carry out the same training and sight-saving surgeries in our absence with increasing independence."
In addition to training local providers in each country, Bettis says, medical students from the United States are also invited to join him on these medical trips, "to expose them to the burden of global blindness, strategies to eliminate it in a sustainable fashion, and others passionate about doing so."
Bettis isn't in each country long, each stay is generally four or five days. But the planning happens several months in advance, he says, with local providers identifying current needs and specific goals. In the United States, Bettis and his team begin gathering supplies and specialists, while providers in each country work to line up patients. On his most recent trip to Haiti, Bettis says the team screened nearly 200 patients and performed more than 60 sight-saving surgeries.
"Using my knowledge, skills, and resources to help alleviate suffering in underserved areas was a large part of what drew me to medicine in general and ophthalmology in particular," Bettis says. "My wife, who is a registered nurse, shares this passion, as well, which we view as both a duty and extreme privilege."
And it's not just the doctors and patients in other countries who are benefitting, he says.
"I feel international outreach experiences enrich my practice here at UI Hospitals and Clinics," Bettis says. "Not only do they 'feed' some of my core values and give me a renewed appreciation for my life at home, they also make me a better doctor. We are forced to work in challenging conditions, constantly asking ourselves how we can do more with less to the benefit of the patients. This can lead to new and innovative ideas that we can use back home."