Dedication of Iowa Neuroscience Institute marks new era of brain research at the UI

Date: Monday, February 6, 2017
University of Iowa President Bruce Harreld joined UI Health Care leaders, officials from the UI Foundation, and representatives from the Roy J. Carver Trust at a Feb. 3 dedication ceremony celebrating the opening of the Iowa Neuroscience Institute and the $45 million Carver Trust grant that helped make the establishment of the institute possible.
"This is a wonderfully important time in the life of our institution," Harreld said to a packed Prem Sahai Auditorium in the Medical Education and Research Facility. In his remarks, Harreld stressed collaboration and integration, noting how much of the research done at the university is interdisciplinary in nature—and how the new Iowa Neuroscience Institute exemplifies this approach.
"This is one of those ideas that you have to say 'yes' to, because that's exactly where the science is taking us. It's where the 'unknown' is—at the intersection of a lot of these ideas," Harreld said.
Jean Robillard, MD, vice president for medical affairs and dean of the Carver College of Medicine, expressed special appreciation for the Carver Charitable Trust and the family of Roy J. and Lucille A. Carver for years of support to the university and UI Health Care. The Carver Trust and Carver Family are the largest donors to the UI; collectively, their support totals more than $195 million.
"The impact of that support is reflected in what we see now in the game-changing research being conducted here every day," said Robillard. He later called neuroscience a "new horizon in scientific research, adding that the Iowa Neuroscience Institute represents a program whose excellence in scientific and academic distinction will rival the best in the world.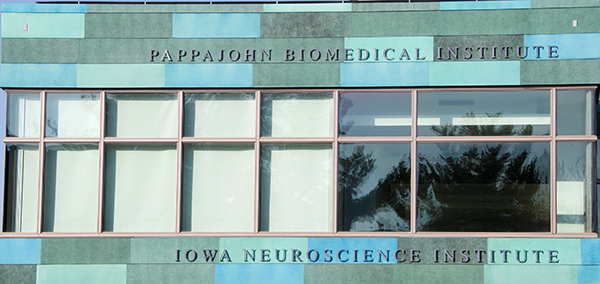 "Perhaps more than any other field, we are seeing that major advances in neuroscience stem from cross-disciplinary efforts," Robillard said. "This is why we knew it was important for us to combine our highly collaborative spirit with our strengths in basic and clinical neuroscience research already existing in many colleges throughout the university to establish the University of Iowa as a leading center for excellence in neuroscience."
Ted Abel, PhD, who joined the UI in January as director of the Iowa Neuroscience Institute after serving as a University of Pennsylvania faculty member for nearly 20 years, praised what he called the "collaborative community here at Iowa" and the university's longstanding tradition of excellence in neuroscience research.
Abel noted that neuropsychiatric, neurodevelopment, and neurological disorders account for nearly one-fifth of all disability in the world leading to ill health or early death, which is "more than any single category of disease," he said.
Abel also shared that he has experienced firsthand how a brain disorder impacts a family. Abel has a son with autism spectrum disorder, and he spoke of helping his son navigate a sometimes confusing and challenging world that most people take for granted. It's a reality that propels Abel in his life and in his work.
"At the Iowa Neuroscience Institute, we hope to make a difference in lives of people like my son—to build a campus-wide neuroscience community that makes revolutionary discoveries in fundamental neuroscience and translates them into clinical treatments for brain disorders," Abel said.
Troy Ross, executive administrator for the Carver Charitable Trust, said the $45 million grant will help support the development and operation of core research facilities; endowed chairs and professorships to attract and retain mission-critical faculty; and research by established investigators.
Perhaps most important, Ross said, Carver Trust support will help jumpstart the careers of early-career UI faculty who have yet to receive major external grant funding but who could benefit from funding to generate important preliminary data for preparing for a highly competitive, federally-funded Research Project (R01) grants.
"We at the Trust are keenly aware that quality research programs require talented individuals and superior facilities," Ross said, "and the Carver Trust fully anticipates that this major contribution will assist in propelling the university to an even greater level of excellence."