The Department of Pathology has recently recruited Dr. Bing-Hua Jiang as the first appointee to Pathology's Endowed Chair for Cancer Research and Dr. Jian Zhang as the first appointee to the Endowed Chair for Immunology Research.  These recruitments have resulted in multiple new grant awards on the UI portfolio, including five transferred R01 grants and two brand new R01 grants from the NIH.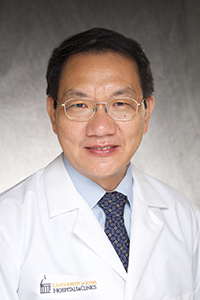 Dr. Bing-Hua Jiang received his undergraduate degree in China, and his Ph.D. from Mississippi State University. After completing two post-doctoral fellowships, one at Johns Hopkins University with Dr. Gregg Semenza and another at the Scripps Research Institute with Dr. Peter Vogt, Dr. Jiang started his academic career at West Virginia University in 2000 and moved to Thomas Jefferson University in Philadelphia in 2010. Bing-Hua's cancer research program is multifaceted and includes the role of signaling pathways (PI3K), reactive oxygen species and microRNAs in angiogenesis, tumorigenesis and therapeutic resistance. He is also exploring the underlying oncogenic mechanisms of environmental arsenic and chromium. Dr. Jiang brought two R01 grant awards with him and has recently been awarded two new awards from the NIH, one with Dr. Ling-Zhi Liu as co-PI.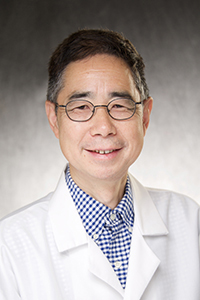 Dr. Jian Zhang received his M.D. and Neurology training at Hunan Medical University in China, followed by a post-doctoral fellowship in Ontario, Canada with Dr. Terry Delovitch.  Jian has held faculty positions in Chicago (Rush University and University of Chicago) and most recently, at Ohio State University.  Dr. Zhang has a number of interests in both adaptive and innate immunity, with an emphasis on lymphocyte signaling, autoimmune disease, and more recently, infectious disease. Specifically, he studies molecular mechanisms of T cell activation and differentiation, and innate immune responses regulated by E3 ubiquitin ligases. Dr. Zhang brings with him three recently awarded R01 grant awards and an American Heart Association award, all focused around the central theme of targeting E3 ubiquitin ligases, such as Cbl-b and Nedd4, as potential therapeutic approaches for autoimmune and inflammatory diseases and well as infectious diseases, including sepsis.