During June's national Pride Month activities, organizations like EQUAL Meds helped show the community what progress has been made for LGBTQ+ health care issues and the journey yet to come.
EQUAL Meds was founded at the Carver College of Medicine more than a decade ago by Katie Imborek, MD, now a clinical assistant professor in the Department of Family Medicine, when she was a UI medical student.
The organization continues to educate the medical community on health issues that are specifically related to those who identify with the LGBTQ+ community and provides a support system for LGBTQ+ health professionals and their allies.
University support
The Office of Cultural Affairs and Diversity Initiatives sponsors EQUAL Meds and supports the group's efforts to make the college a comfortable and supportive place for everyone. Together they help faculty and staff incorporate LGBTQ+ specific health topics into the training curriculum.
Outside of classes, EQUAL Meds holds educational lectures, panels, and events throughout the year.
Recent EQUAL Meds presenters were Terry Wahls, MD, and her son Zach, discussing growing up in an LGBT medical family.
The group also sponsors social gatherings for the college's students and professionals, creating opportunities for networking and mentoring while building a well-rounded community. More information on these events can be found on the EQUAL Meds Facebook page.
Impact on medical community
For members of the LGBTQ+ community, EQUAL Meds acts as a reminder of past mistreatment of LGBTQ+ patients nationally by the health care system. The group has played an important role in changing the climate at the University of Iowa.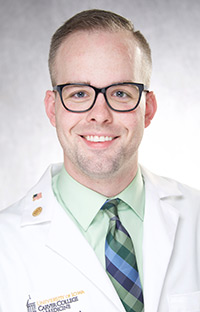 Robert Humble, MS, former president of EQUAL Meds and current student body president, is very passionate about the work EQUAL Meds does.
"I think students involved in EQUAL Meds are a valuable resource on LGBTQ+ topics for their peers," he says. "I've regularly had classmates come to me with questions. We try to do our part to educate and advocate on an individual level. There's always room to improve, and we try to push the ball forward when we can."
Opportunities for students
Through their training, medical students have the opportunity to:
Learn about medical and health concerns specific to the LGBTQ+ community through simulated patients working through scenarios that can arise when caring for LGBTQ+ patients.
Spend time at the UI LGBTQ Clinic during the outpatient internal medicine rotation.
Outside the curriculum EQUAL Meds has put on sessions such as:
Q&A panels with providers who see a lot of LGBTQ+ patients
A patient and provider rights discussion with Iowa Medical Society's general counsel
A talk on workplace harassment and employment barriers with the U.S. Equal Employment Opportunity Commission
Each year medical students from the Carver College of Medicine have the opportunity to attend the Gay and Lesbian Medical Association (GLMA) Annual Conference.
For Humble, the most rewarding part about EQUAL Meds is having a sense of community with people who are like you.
"Being involved with EQUAL Meds has been a great way to connect with classmates, colleagues, and other LGBTQ+ trainees and faculty here at Iowa. I think we underestimate the value in seeing 'someone like us' who we can look to for advice or for professional mentorship. Representation matters!"
EQUAL Meds is a student organization open to all medical students and PA students at the Carver College of Medicine.