Erickson, Maley appointed to endowed professorships
Date: Monday, June 20, 2022
Two UI Carver College of Medicine faculty were appointed to endowed professorships at an investiture ceremony June 16 in the Medical Education and Research Facility.
Brooks Jackson, MD, vice president for medical affairs and the Tyrone D. Artz Dean of the Carver College of Medicine, and Pat Winokur, MD, executive dean of the college, presided over the ceremony.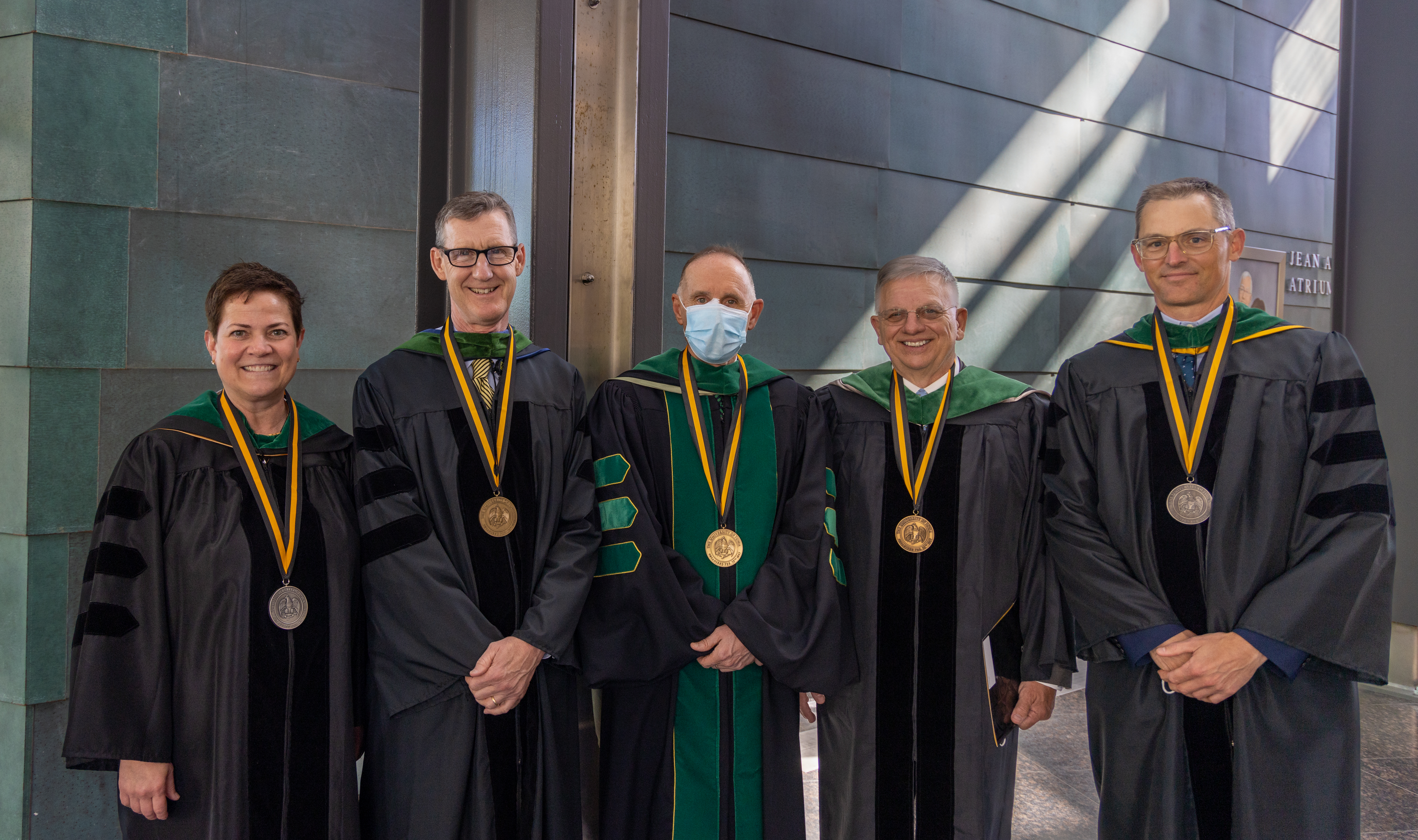 Brad Erickson, MD
Rubin H. Flocks Professor in Urology
Erickson earned an MD and an MS at Iowa and joined the Department of Urology faculty in 2010, where he serves as director of the division of functional and reconstructive urology. His research interests include translational work in genitourinary reconstruction, cancer survivorship, and men's health. He is certified by the American Board of Urology and is a fellow in the American College of Surgeons.
Throughout his 12 years as a UI faculty member, Erickson has authored more than 150 peer-reviewed manuscripts, received research funding from both the National Institutes of Health and the Department of Veterans Affairs, and twice been named faculty mentor of the year.
Joan E. Maley, MD, FACR
Wendy R.K. Smoker Professor in Neuroradiology
Maley earned an MD and completed a fellowship in radiology at Iowa, and she joined the Department of Radiology in 1997. She serves as director of the neuroradiology division as well as the department's vice chair for academic affairs and associate vice chair of education. She also holds a secondary faculty appointment in the Department of Otolaryngology. Her research is focused on diagnostic radiology of oral diseases. She is board-certified in diagnostic radiology with a certificate of added qualification in neuroradiology.
Maley has coauthored more than 35 papers and 55 exhibits and presentations. She has twice mentored residents who won the radiology department's trainee research award for best research project. She is a well-respected lecturer and educator with numerous teaching awards, including Teacher of the Year (2000), Teacher of the Year for Medical Student Teaching (2001), Faculty Teacher of the Year (2011 and 2021), and the Krabbenhoft Award for Excellence in Teaching (2001 and 2021).