Faculty Focus: Andrea Greiner, MD
Date: Monday, September 26, 2016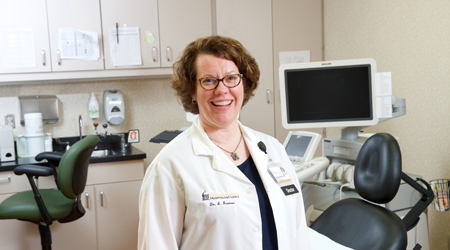 Department of OB/GYN
What is your hometown?
St. Louis, Missouri
When did you join the University of Iowa faculty?
2006-2010, and 2013 to present
How/when did you become interested in science and medicine?
As a child, looking at my mom's nursing textbooks, and watching her cut up a whole chicken while explaining what each chicken part did.
What interested you to pursue a career in Obstetrics/Gynecology?
As a medical student, I enjoyed staying up at night to deliver babies. I enjoyed the combination of medicine and surgery, and helping women across the spectrum of their reproductive lives.
Is there a teacher or mentor who helped shape your career?
Dr Mary Norton, my fellowship director at UCSF.
How or why did you choose the University of Iowa?
I wanted to be in a large, tertiary academic center where I can care for pregnant women in uncomplicated as well as high risk pregnancies.
The University of Iowa's faculty members are united to provide exceptional patient care while advancing innovations in research and medical education. How does your work help translate new discoveries into patient centered care and education?
I hope my telemedicine project to provide high risk pregnancy consults and ultrasound will allow us to provide care for more women across Iowa, and improve pregnancy outcomes.
What kinds of professional opportunities or advantages does being a faculty member at an academic medical center provide?
Continuing education is valued and expected. Being around learners motivates me to stay on top of my field. I have generous colleagues who offer their time, experience and expertise.
Please describe your professional interests.
I am interested in using obstetric ultrasound to diagnose fetal anomalies and perform intrauterine procedures. I am developing a telemedicine program for consultations and OB ultrasound. Physician documentation, billing and coding are integral to these activities and of interest to me as well.
What led to your interest in your field?
I am fascinated by the complex maternal-fetal physiology of pregnancy and how it is affected by disease. The placenta is a fascinating organ that is only temporary! I find it very rewarding to help women through a complicated pregnancy and delivery. There is so much we don't understand and can't control during a pregnancy, but I am drawn to care for these women during what will hopefully be the best day of their lives, their baby's birthday.
How does working in a collaborative and comprehensive academic medical center benefit your work? 
So many experts are just a phone call away plus the culture of dedication to patient care is very strong here.
What are some of your outside interests? 
Yoga, knitting and crochet, baking, and spending time with my husband and two boys.
Do you have an insight or philosophy that guides you in your professional work? 
Trust your intuition and know your strengths.
If you could change one thing about the world (or the world of medicine/science), what would it be?
That every single woman has access to excellent reproductive care throughout her life without interference from anyone outside of her doctor's office.
What is the biggest change you've experienced in your field since you were a student?
Two things: implementation of the electronic medical record, and work-hour restrictions for medical residents.
What one piece of advice would you give to today's students?
Your #1 guiding principle should be ALWAYS do what is right for the patient. 
What do you see as "the future" of medicine/science? 
Implementing more technology that will benefit both patients and clinicians.
In what ways are you engaged with the greater Iowa public (i.e. population based research, mentoring high school students, sharing your leadership/expertise with organizations or causes, speaking engagements off campus, etc.)?
I am the physician liaison for the Statewide Perinatal Screening Program at the Iowa State Hygienic Lab.