Faculty Focus: Arlene Drack, MD
Date: Monday, June 4, 2018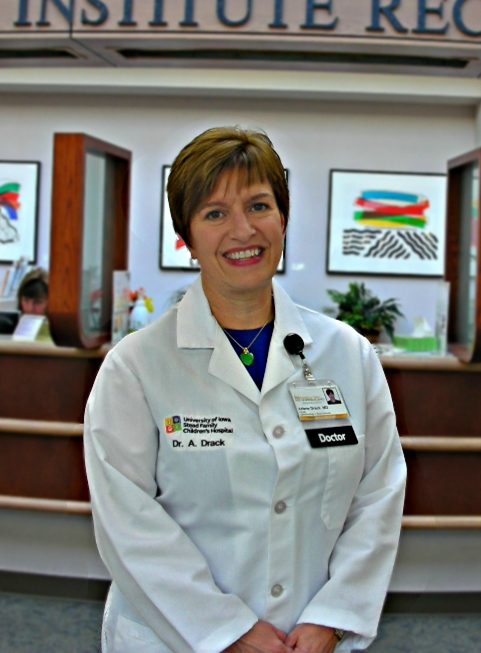 What is your hometown?
Lake Sheridan, Pennsylvania
How/when did you become interested in science and/or medicine?
I have wanted to become an ophthalmologist since I had my first eye exam at age 9. 
When did you join the University of Iowa faculty?
2008 - a week before the historic flood!
How or why did you choose to join the faculty at the University of Iowa?
I wanted to participate in cutting edge research in my field as well as take care of patients. The Institute for Vision Research in the Department of Ophthalmology and Visual Sciences at Iowa is one of the few places where this can be done at a very high level.
Is there a teacher or mentor who helped shape your career?
I am the first person in my family to go to college, and as I learned more about the length of training, and the financial burden, of becoming an ophthalmologist, I began to doubt that it was possible for me.  I have been fortunate to have had many great mentors who helped shape my career, but the most pivotal may have been my college biology professor, Dr. Callahan, who encouraged me to believe that I could, and should, go to medical school.   
How do you see your faculty role impacting medicine and/or science?
Many patients come to me without a diagnosis. In working to understand what is affecting their vision, we also offer them enrollment in gene discovery and clinical treatment trials. This type of research moves medicine forward. In the clinic I am involved in retinal gene therapy trials; recently the FDA committee voted unanimously to approve the gene therapy product for which we just reported results. If the FDA gives final approval, this will be the first ocular gene therapy agent approved in the United States, and one of the first in the world. This will have a transformative role in medicine and science. I also do research on animal models of human blindness. Some of the treatments we are testing in the lab will one day be available to patients who today have no treatment for their condition. For me, being a clinician-scientist offers the best of both worlds as I care for and get to know my patients long term, and also work to give them more advanced care in the future than we are able to deliver today.
What is the biggest change you've experienced in your field since you were a student?
The genetic revolution and the advent of gene replacement therapy for blinding genetic retinal disorders. When I was a student we could only diagnose Leber Congenital Amaurosis, the most common genetic congenital blindness, clinically, and then offer services for the blind. Now we can test for mutations in one of the 19 genes discovered so far, and can offer a treatment for one of them. We have not had a genetic revolution, past tense—we are actively fighting and making headway in this revolution right now!  
What one piece of advice would you give to today's students?
Think of your patients as your family, and give them the care you want yourself and your own family to receive. This is becoming harder to do as data entry steals more of our time, but if we strive for this, everything else falls into place.
In what ways are you engaged in professional activities outside the University (i.e. population based research, mentoring high school students, sharing your leadership/ expertise with organizations or causes, speaking engagement off campus, etc.)?
I chair the inaugural Genetic Eye Disease task force for the American Association of Pediatric Ophthalmology and Strabismus. I mentor high school students in my lab, and have given presentations at area grade and middle schools and Girl Scout troops. I have a very active speaking calendar as a visiting lecturer and presenter at national and international professional meetings. 
What are some of your outside (personal) interests?
My family and I love to kayak, and to explore nature and wildlife from Iowa to Canada and the islands of Sanibel and Captiva off the west coast of Florida. I am a Shell Ambassador for the Bailey National Shell Museum on Sanibel. I am a member of the Faculty Women's Book Club, where we discuss all types of literature from the vantage points of the many different disciplines we represent on the faculty.