Faculty Focus: Dr. Miles Pufall, PhD
Date: Wednesday, November 16, 2016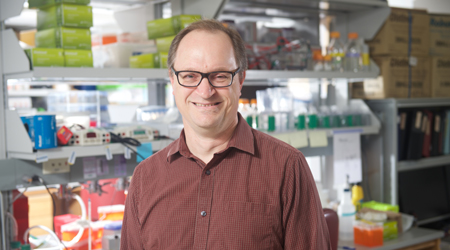 Department of Biochemistry
What is your hometown?
Northampton, Massachusetts
When did you join the University of Iowa faculty?
2011
How/when did you become interested in science and medicine?
Although I was chemistry major in college, I did not develop a serious interest in science until I'd been out of college for 8 years.  I began to take classes in environmental toxicology which focused on natural products and chemicals that acted as estrogens. When I read that normal estrogens work by activating a protein that turns genes on and off, I began to ask real scientific questions about its mechanism.  But it happened *very* gradually.
What interested you to pursue a career in Biochemistry?
As chemistry major, I think I instinctively see biological processes as chemical reactions, so it was a natural fit.
Is there a teacher or mentor who helped shape your career?
Both my graduate and postdoctoral advisors were great, but there were two people early on who got me on my way.
The first was Frederick Carson, who was teaching Introduction to Biochemistry at American University. At the end of the year-long course, he suggested that I consider Biochemistry as a profession. I already had a job I liked and had not even considered a scientific career.
The second was Deborah Hursh, who was a visiting lecturer teaching Molecular Biology also at American University.  She also suggested that science would be a good career for me, and made some critical calls to graduate schools on my behalf.
How or why did you choose the University of Iowa?
Iowa has built a great reputation on the shoulders of Lori Wallrath, Pam Geyer, and David Price for work in transcription regulation, which is the focus of my research.  The Holden Comprehensive Cancer Center was also a draw as I was just beginning to relate my work to leukemia.  Also, my wife is a short story writer and publishes a writing/art journal, so Iowa City was an ideal place for her.
The University of Iowa's faculty members are united to provide exceptional patient care while advancing innovations in research and medical education. How does your work help translate new discoveries into patient centered care and education?
The work of my lab embodies this mission.
We work on the fundamentals of how steroids regulate transcription at a biophysical level, and we apply that knowledge to understanding treatment resistance in leukemia.
As a result,
we are simultaneously cross-training chemistry undergraduates in protein DNA biochemistry and
we have a new combination chemotherapy that shows great promise and, with the help of outstanding colleagues at the Holden Comprehensive Cancer Center, is progressing into clinical trials.
What kinds of professional opportunities or advantages does being a faculty member at an academic medical center provide?
We have the freedom to ask the most interesting question;  the nimbleness to change direction based on our findings; and  the intellectual resources to understand findings and pursue them into the clinical setting.
Please describe your professional interests.
I am interested in understanding how genes not only get turned on and off, but are fine-tuned to meet the needs of the cell.
We pursue this question by studying how the glucocorticoid receptor, a steroid activated transcription factor, interprets cellular signals to fine-tune important genes.  Glucocorticoid receptor regulation of some genes is required for steroids to be effective chemotherapeutics.  We are studying how these genes are regulated, and have devised ways to boost regulation of those genes specifically in leukemia cells. I like working on this problem because the answers can be found in everything from atomic-level structural biology to cell and developmental biology.
What led to your interest in your field?
When I first found out that all of us have tens of thousands of genes, but that only a small fraction of those are used at any given time, I have been interested in understanding how a cell not only knows which genes to turn on and off, but how these genes are precisely regulated to meet the needs of the cell. I was looking for a way to study this problem in an applicable biological context when it became clear that treatment resistance in leukemias essentially results from a failure to properly regulate key cell death genes. Our work focuses on understanding not only on how mis-regulation occurs, but how to fix that regulation.
How does working in a collaborative and comprehensive academic medical center benefit your work?
Collaboration is absolutely essential to push from bench to bedside.
Investigators develop a deep knowledge of their scientific question, but knowing how or even whether to push a finding into the clinic depends on
clinicians, who know the disease and see the effect of therapies,
nurses and pathologists to provide well characterized primary samples, and
other scientists to fill in the gaps.
When any of these pieces are missing, progressing to the clinic is either very slow or non-existent.
What are some of your outside interests?
I am kept pretty busy with my family, including two young children. I am also an avid ball-sport player - golf, tennis, bowling, softball, and, until recently, soccer.  In addition, I am a semi-professional potter specializing in functional ware.  I also love to travel.
Do you have an insight or philosophy that guides you in your professional work?
I have two:
Define the model before doing the experiment.
Don't waste clean thinking on dirty enzymes.
If you could change one thing about the world (or the world of medicine/science), what would it be?
Incentivize sharing.
What is the biggest change you've experienced in your field since you were a student?
Genomic sciences - no question.  The scale on which science can be done by even a small lab is staggering.
What one piece of advice would you give to today's students?
Learn a programming language.  There is a tremendous amount of data available - the folks who can access it and ask specific questions have a huge advantage.
What do you see as "the future" of medicine/science?
Immunotherapy is a complete phase shift in understanding how to treat not only cancer but many other diseases.
Also, CRISPR technology is changing what experiments are possible.  What was once done in a test tube, can now be done in cells or organisms. Accordingly, in vivo mutagenesis will replace in vitro, enabling direct observation of mechanism even in primary tissue.
In what ways are you engaged with the greater Iowa public (i.e. population based research, mentoring high school students, sharing your leadership/expertise with organizations or causes, speaking engagements off campus, etc.)?
I am very active in speaking at local cancer awareness and fundraising events for organizations such as the American Cancer Society, the Leukemia and Lymphoma Society, St. Baldrick's Foundation, and the V Foundation.  In addition, my lab hosts undergraduates for the summer from small colleges in Iowa to provide a research experience that they wouldn't otherwise have access to.  Thus far we've hosted students from Buena Vista, Coe, Cornell, and Simpson Colleges.