Faculty Focus: Paloma Giangrande, PhD
Date: Wednesday, February 28, 2018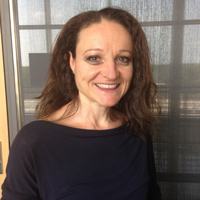 What is your hometown?
I feel at home everywhere I go. I traveled a lot growing up. I was born in Riyadh, Saudi Arabia. From the age of 1 to 8 I lived in several countries including Senegal (Dakar); Thailand (Bangkok); Venezuela (Caracas) and Sri Lanka (Kandy). My family moved back to Rome, Italy when I was 9 years old. I lived there for eight years before coming to the United States in 1990. I have lived in the US the longest I have lived anywhere. I married an American (James McNamara who is also a faculty at the University of Iowa) and had a child (Arianna Lucille) who was born at the University of Iowa Hospital and Clinics. I became a US citizen 3 years ago. The US feels the closest to home.
How/when did you become interested in science and/or medicine?
I was drawn to science and medicine from the very beginning. I was fascinated by nature, the cosmos, the idea that life could exist beyond our planet. I remember being aware of my mortality and the cycle of life at the age of 6. I was fascinated by the practice of medicine and the impact of lifestyle and nutrition on health.
I decided to pursue a career in science and medicine my freshman year in college after deepening my knowledge of chemistry and anatomy.
When did you join the University of Iowa faculty?
March 1, 2007.
How or why did you choose to join the faculty at the University of Iowa?
I had just published a pioneering study in Nature Biotechnology on aptamer-mediated delivery of RNA interference (RNAi). Because of this work, Dr. Beverly Davidson (Internal Medicine) approached me to pursue RNAi-based therapeutics in the Department of Internal Medicine at the University of Iowa and the rest is history…
Is there a teacher or mentor who helped shape your career?
I am lucky to have had several people in my life who have helped shape my career and life path including Elita Pastra-Landis (chemistry teacher in college), Donald McDonnell (PhD mentor), Joseph R Nevins (postdoctoral mentor), John Rossi (colleague and friend), Judy Lieberman (colleague and friend), and Eli Gilboa (colleague and friend). They have taught me to love science, to not give up when things get tough and that success is easier achieved (and more rewarding) as part of a team.
How do you see your faculty role impacting medicine and/or science?
I am a researcher with the goal of moving science forward and going where no one has gone before. Through my work, I am committed to developing novel methodologies for 1) delivering therapeutic agents to specific cell types, 2) diagnostics, and 3) acquiring mechanistic insights into diseases.
As a teacher/mentor, I can have a positive impact on our future generations…and that is priceless to me. When I am teaching students, I witness their intellectual growth. I enjoy seeing students grow into better scientists/people and I grow with them.
What is the biggest change you've experienced in your field since you were a student?
Technological advances. The rapid advances in high-throughput sequencing technology which have enabled scientists to sequence entire genomes. The discovery of RNAi and its application to understanding gene function as well as developing novel therapies for undruggable targets. CRISPR technology and its application to gene editing approaches and therapy. These past 20 years have been an exciting time to be in science and it's not over yet!
What one piece of advice would you give to today's students?
Never think you are not good enough + never give up + hold on to your passion like your life depends on it. That's my ONE (3-part) piece of advice!
In what ways are you engaged in professional activities outside the University (i.e. population based research, mentoring high school students, sharing your leadership/ expertise with organizations or causes, speaking engagement off campus, etc.)?
I am involved with several scientific societies such as the American Society for Gene and Cell Therapy (ASGCT) and the Oligonucleotide Therapeutics Society (OTS). I strive to serve their mission to train the next generation of scientists and educate the lay community on current advances in drug development and gene therapy.
I also work with my child (7 yo) and her friends on "home science projects". I keep on learning…
What are some of your outside (personal) interests?
I am an avid reader. I enjoy reading about medicine, fiction and nutrition. I enjoy cooking, running, watching movies and traveling to new places.